If you're not familiar with the term fanzine, it's short for "fan magazine," and typically refers to the kind of fan-made, photocopied magazines that popped up in decades past.
While fanzines are obviously not professionally published, to consider their influence to be as basic as the medium would be missing the point. To help you understand a little more about this pop culture phenomenon, here's a little 'zine primer — along with more than 20 examples.
What is a fanzine?
Merriam-Webster defines fanzine as "a magazine that is written by and for people who are fans of a particular person, group, etc." — but that doesn't remotely capture the essence of the fanzine movement.
An article from 1984 explained it much better: "One of the most recent phenomena of the pop culture melting pot are fanzines. A fanzine is something akin to an underground magazine, and there are virtually thousands of them springing up all over the country.
"Fanzines cover a wide spectrum of ideas; the articles, interviews and band reviews, however, are not written in a style found in conventional media. The majority of fanzines are put together in a chaotic fashion; poetry, art dabblings, discussions of social and economic repression and articles about non-mainstream bands abound."
If you had to explain fanzines to a teen using today's parlance, you might say it's kind of like creating a public blog to share the best fan art, fanfic, comics, commentary and clips with all of your like-minded friends from the various social media sites. (Ironically, there's even a tumblr about fanzines.)
Fanzines by the thousand
Over the years, thousands of these DIY publications have produced by hobbyists and other obsessive types. The vast majority were labors of love — created out of a passion for the subject matter — and not expected to make a profit. (The typical goal was just to cover the costs of photocopying and postage.) Readers got to experience the joy of a stapled bundle of black print on plain paper showing up in the mailbox at random intervals.
The subject matter varied widely, though the self-published works started by science fiction fans back in the 1930s are considered to be the first 'zines.
The concept slowly worked its way into the music world during the late 1970s and early 1980s — but there were absolutely no limits on the types of topics covered. In fact, "no limits" pretty well describes the overall fanzine philosophy pretty well — just as "no budget" sums up the resources usually used to create such works.
While rarely intended for the mainstream, fanzines are now considered an important part of world culture, and several pillars of academia — including Duke, Harvard, University of Arizona, University of Maryland and the University of Iowa — have fanzine collections.
The University of Iowa, working to digitize about 10,000 science fiction 'zines, explains the fascination as so: "Fanzines are important cultural artifacts that document the development and continuing life of particular social communities — in this case, fans of specific genre topics (i.e. science fiction).
"Fanzines were originally devoted to chronicling people's interest in literary science fiction, but over the course of the 20th (and into the 21st) century, they have been adopted as vehicles of personal and cultural expression by a number of new fan communities."
A brief history of fanzines
"Psychologist Frederic Wertham, one of the first scholars to study fanzines, recognizes the impulse behind their creation and use: 'Their claim to attention, certainly not a small one, lies in the fact that they belong to the American cultural environment, that they exist as genuine human voices outside of all mass manipulation.' (1973)" noted a research paper by archivist Jeanne Swadosh.
She further explains, "Feeling alienated from mediated reality and the geographic communities in which they lived, worked, and studied, these individuals began producing their own low-circulation print publications for distribution amongst like-minded others. Sometimes centered around a particular topic, but just as likely not, these publications were created to communicate highly personal thoughts, opinions and questions to a diffused, international audience.
"Using non-traditional communication networks and the US Postal Service, fanzine and zine publishers established a framework for intimate, meaningful, open discourse outside and in opposition (sometimes unconsciously, sometimes not) to corporate control."
MORE: Why we still love the music we listened to while growing up
People are still producing fanzines, of course, but there aren't nearly as many as there were in years past. Their decline is largely due to the advent of the internet — which has made content creation simpler, distribution fast and cheap, while also allowing for easy interaction between readers and online publishers.
The attraction of fanzines
"The more raw and honest, the better. It's a world where the weird, absurd and unique is appreciated," explain Esther Watson and Mark Todd in their book Whatcha Mean, What's a Zine?. "It's for getting thoughts and ideas down on paper and into others' hands."
But beyond servicing a readership, 'zines opened doors by helping other people realize, "Hey — I can do this, too!" In fact, Myria was co-founded by a former 'zine editor — and she's not the only one who launched a career that way.
"Walking into a record store and scanning the bottom shelves of the diminutive magazine rack, I picked up my first 'zine. It was handmade using tape, typewriters, pens and a photocopier," writes Eric Nakamura, who went on to co-create Giant Robot.
And then he describes the magic: "It had the energy of punk rock, but it was captured in print — all for $2."
---
Fanzines from the 1970s
Vintage Fantastic Fanzine (1970)
APA-FILK fanzine (1979)
The Golden Age fanzine (1976)
Infiltrator music fanzine (1979)
Star Trek Crack in the Mirror fanzine
---
From the 1970s/1980s
Trees and Flowers fanzine
Retro Doc Savage Quarterly
The Gopher Purge
---
Fanzines from the 1980s & 1990s
Third Imperium fanzine (1987)
Twilights and Lowlifes fanzine (c1986)
Absurd vintage 80s fanzine (1988)
Audivisse music fanzine (1988)
Carnival Duran Duran fanzine (1986)
Connecticut Game Club – The Gamer's Zine (1985)
DUCK – Duran Duran fanzine (1986)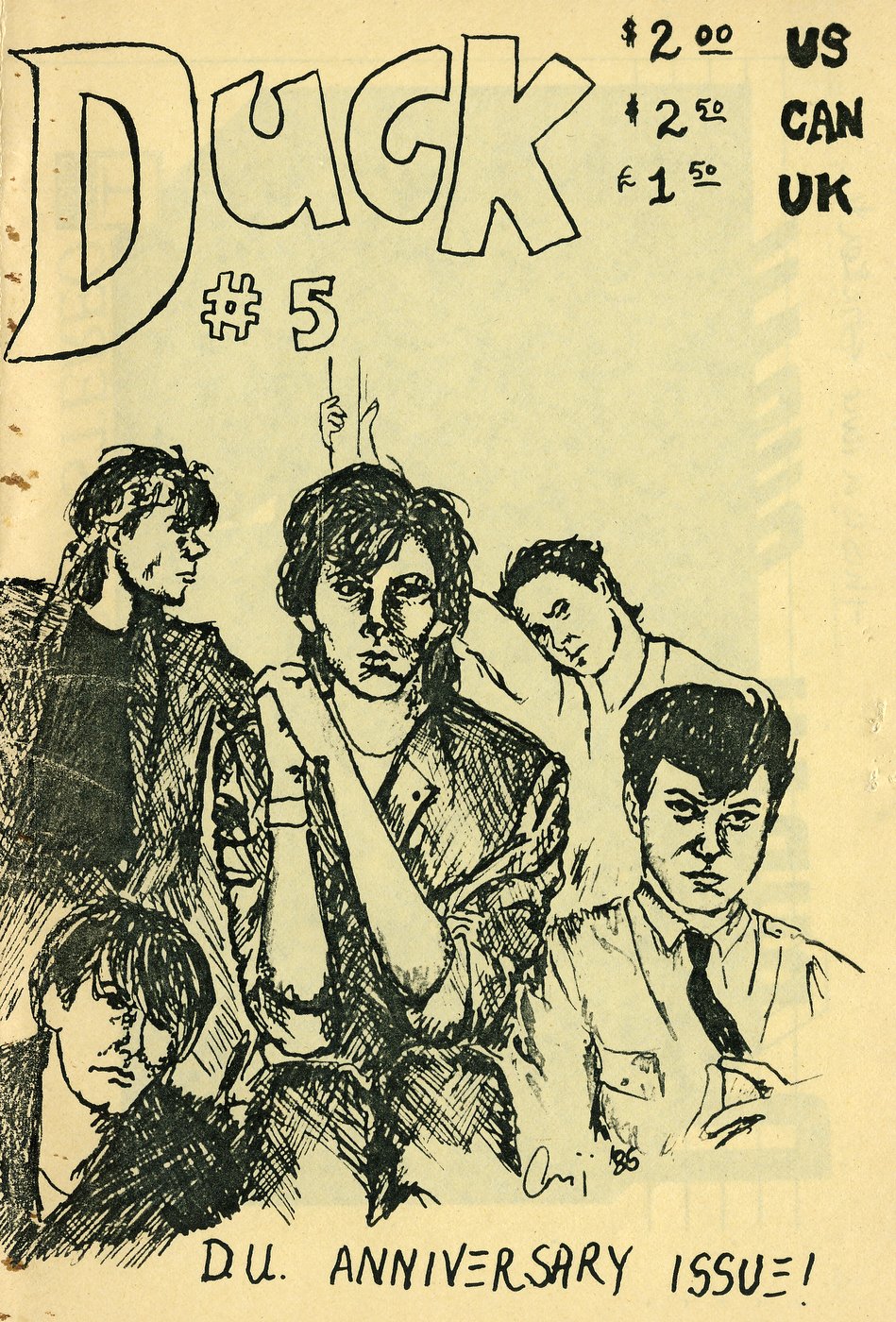 The Scribblerist fanzine (1988)
Fanzine One – Music (1986)
Pop is Dead – Radiohead fanzine (1994)