Why should kids get all the fun beds — you know, the ones with cool shapes, playground-like features, or fort-style canopies?
From the funky to the luxurious, we found 24 amazing beds that come in grown-up sizes, and will bring out the kid in any adult — no matter if you're in Generation X, Y or Z.
1) This bed seriously rocks
This rocker bed, which was made by Shiner International, gives new meaning to "rocking to sleep." It was available for purchase, but is no more. Still, we love imagining a nap in this thing…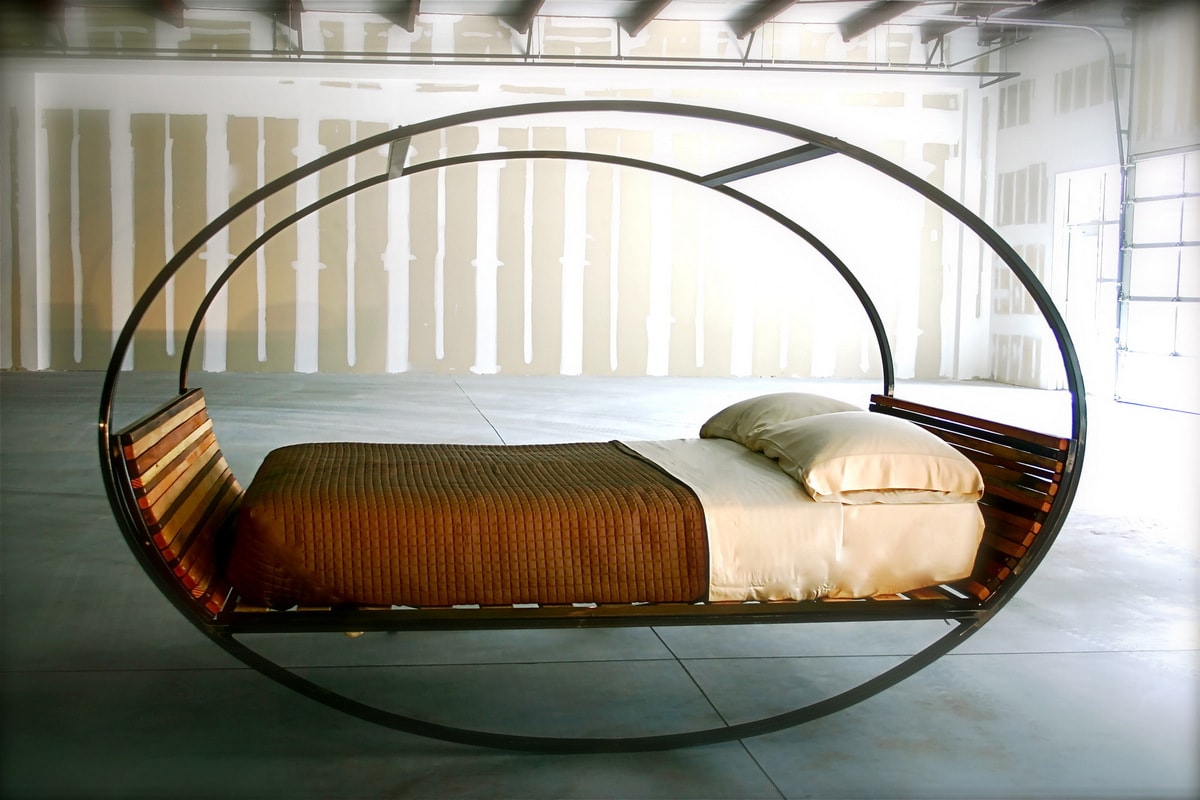 ---
2) Egg-shaped bed with a multicolored starry projection inside
This bed is available from Alibaba under the catchy name "Direct Deal Star Love Nest Bed for Hotel round bed for Vibrating bed," but we think of it as the Mork bed. You know — in the TV show Mork & Mindy, Mork traveled through the stars with his egg-shaped spaceship.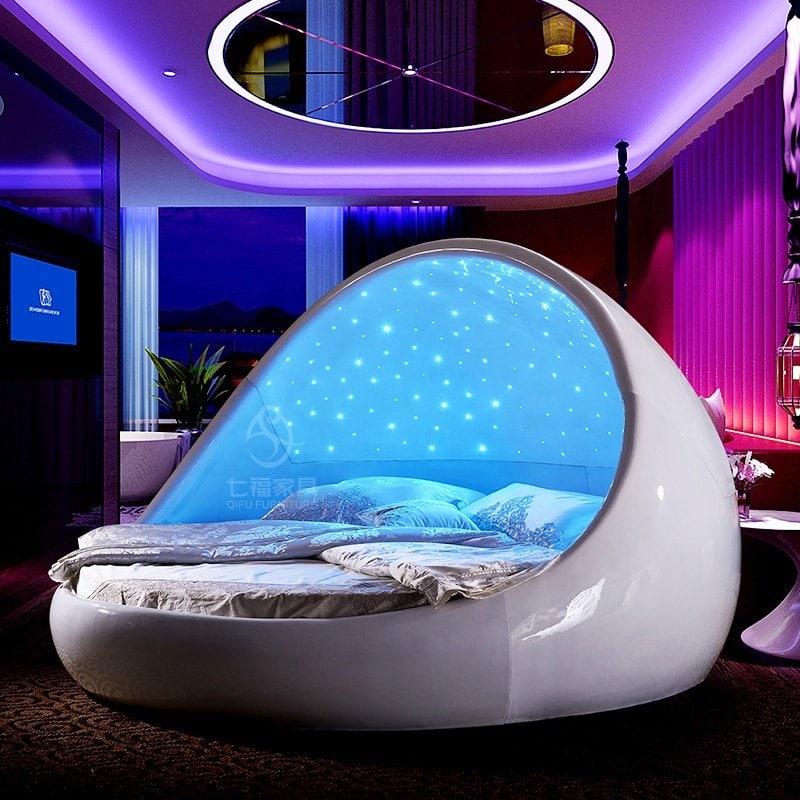 ---
3) Four poster tree bed
This custom bed by Tiina Anttila featured cutout leaves and trees on all four posts, and was made of laser-cut ash wood.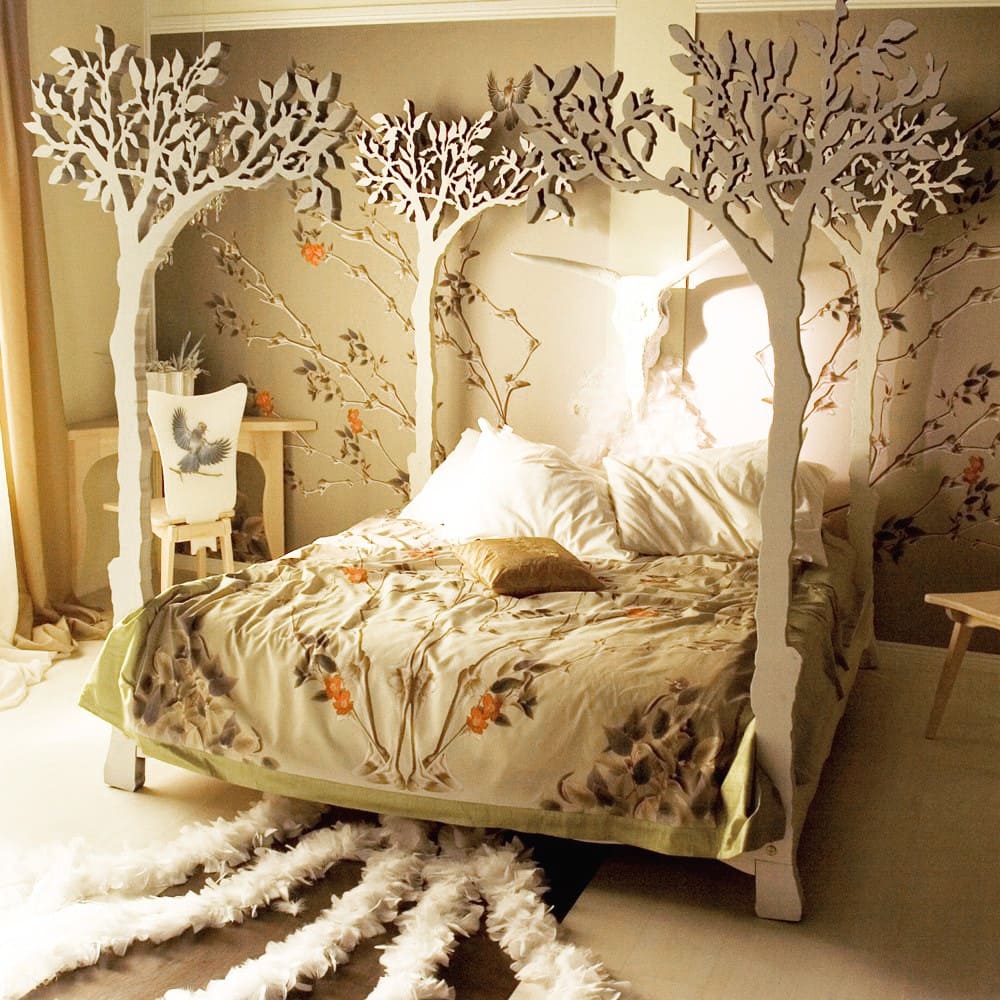 ---
4) HiCan ultra-modern boxy canopy bed
From the Hi-Interiors site: "If you thought beds were just built for sleeping, then think again. The futuristic gadget-loaded HiCan bed, designed by Italian 'Think Future' design director, Edoardo Carlino, is every bit a technological sanctuary.
"With an inbuilt JVC entertainment system boasting a DLA projector and slide-down 70-inch screen, a 4.1 surround sound system, a computer, an Xbox 360 and a number of other features including iPod controls, temperature controls, adaptive LED lighting as well as motorized shades for sleeping in absolute darkness.
"The user will probably have little motivation ever to go anywhere else."
---
5) Homey Design EK Bed
The elaborately-carved Baroque style won't fit into every home, but this insanely over-the-top bed has silver-toned old-fashioned flash that would suit any royal palace. Find out more about it here.
---
6) Lafever Upholstered Sleigh Bed by Orren Ellis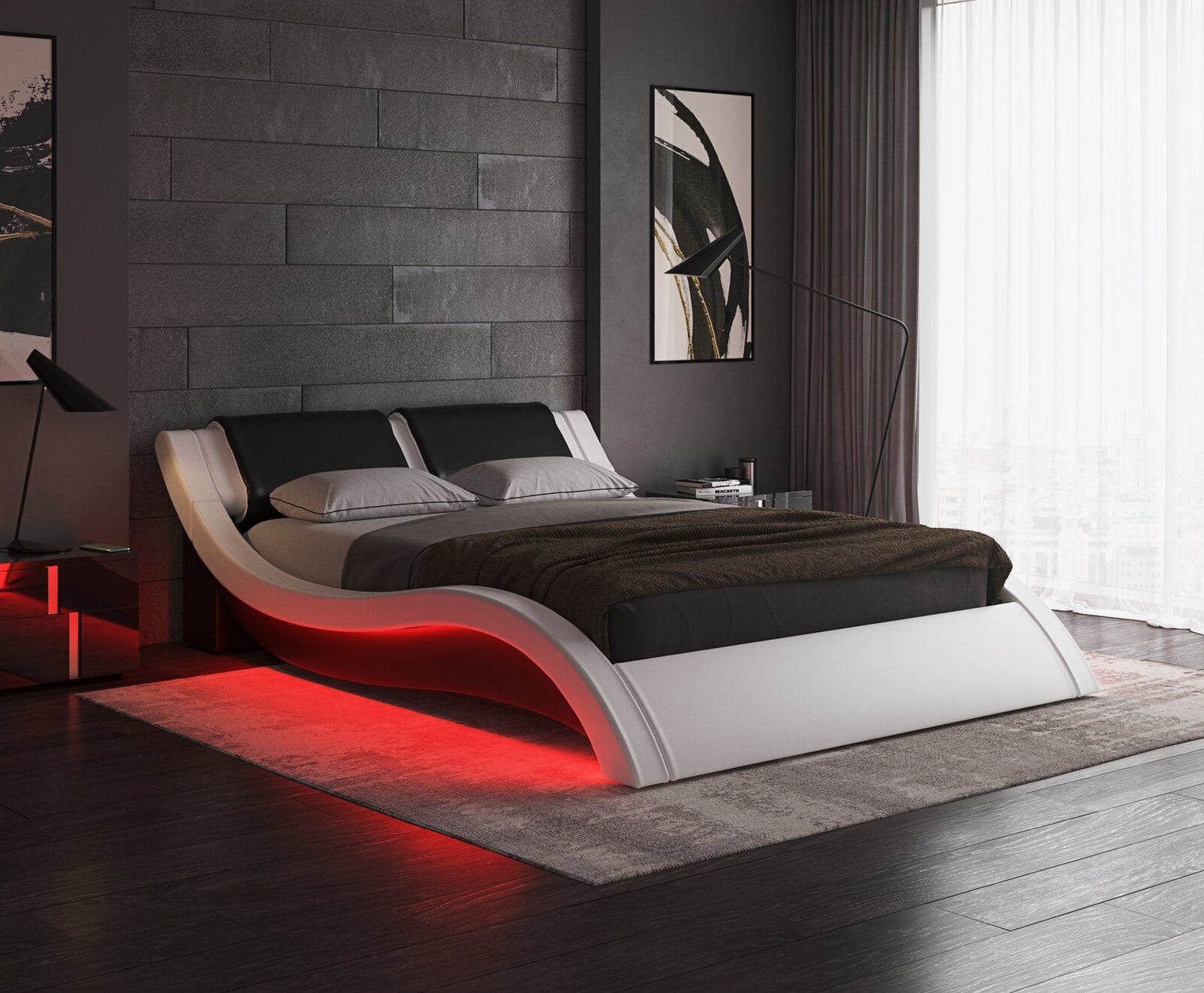 ---
7) Sofacraft Faux White Leather Round King Size Bed
This beautiful circular bed was available for a while at Overstock… but they seem to be out of stock.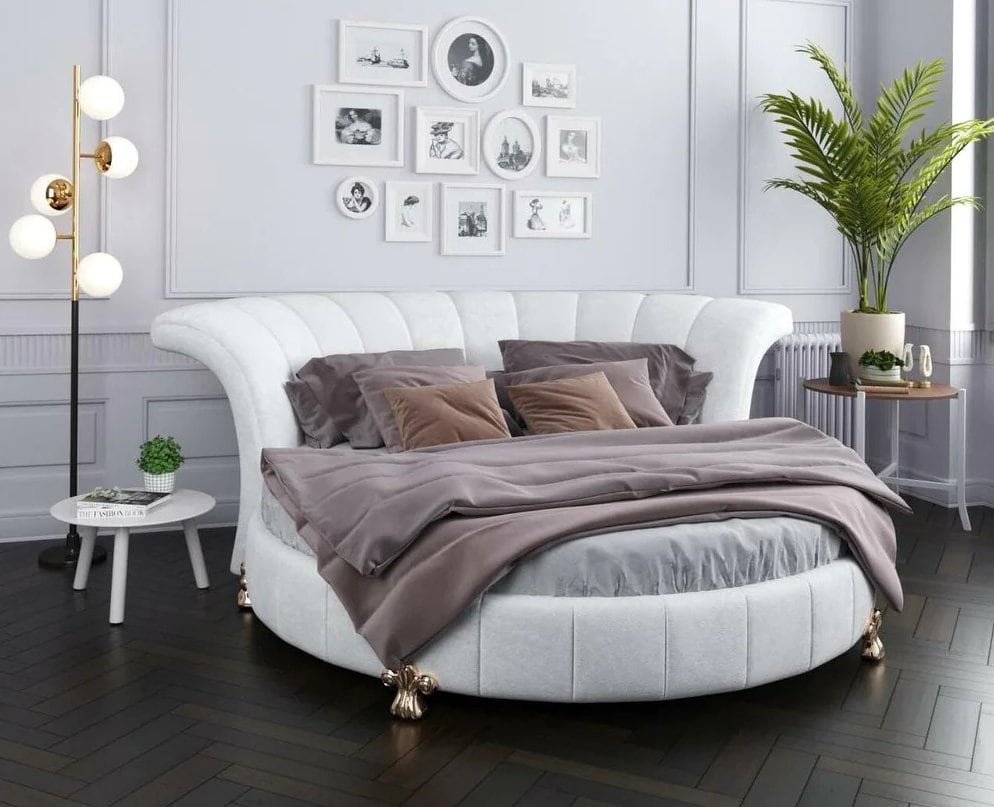 ---
8) Giant birds nest bed with soft eggs
This one's not exclusively a bed, but certainly would make a comfy one! The company behind this design, OGE Group, described it as such: "The wooden nest is filled with highly comfortable egg-shaped sitting poofs which allow ergonomic sitting positions and various configurations for informal meetings and social exchange."
Sadly, they don't make this beauty anymore — see their note about it here.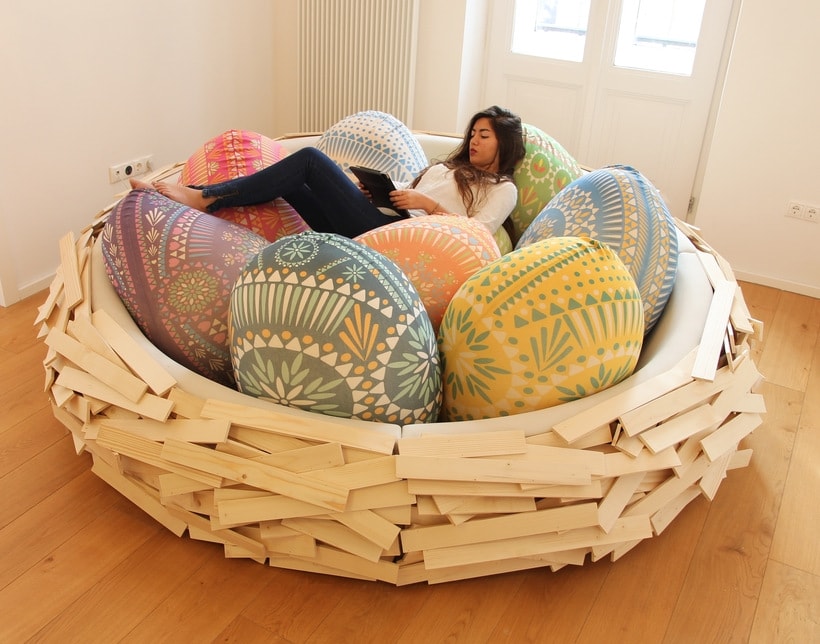 ---
9) The Zip Bed by Florida Furniture
This futuristically-styled bed from an Italian company made it easy to make the bed — just zip it up! Here's a before and after shot.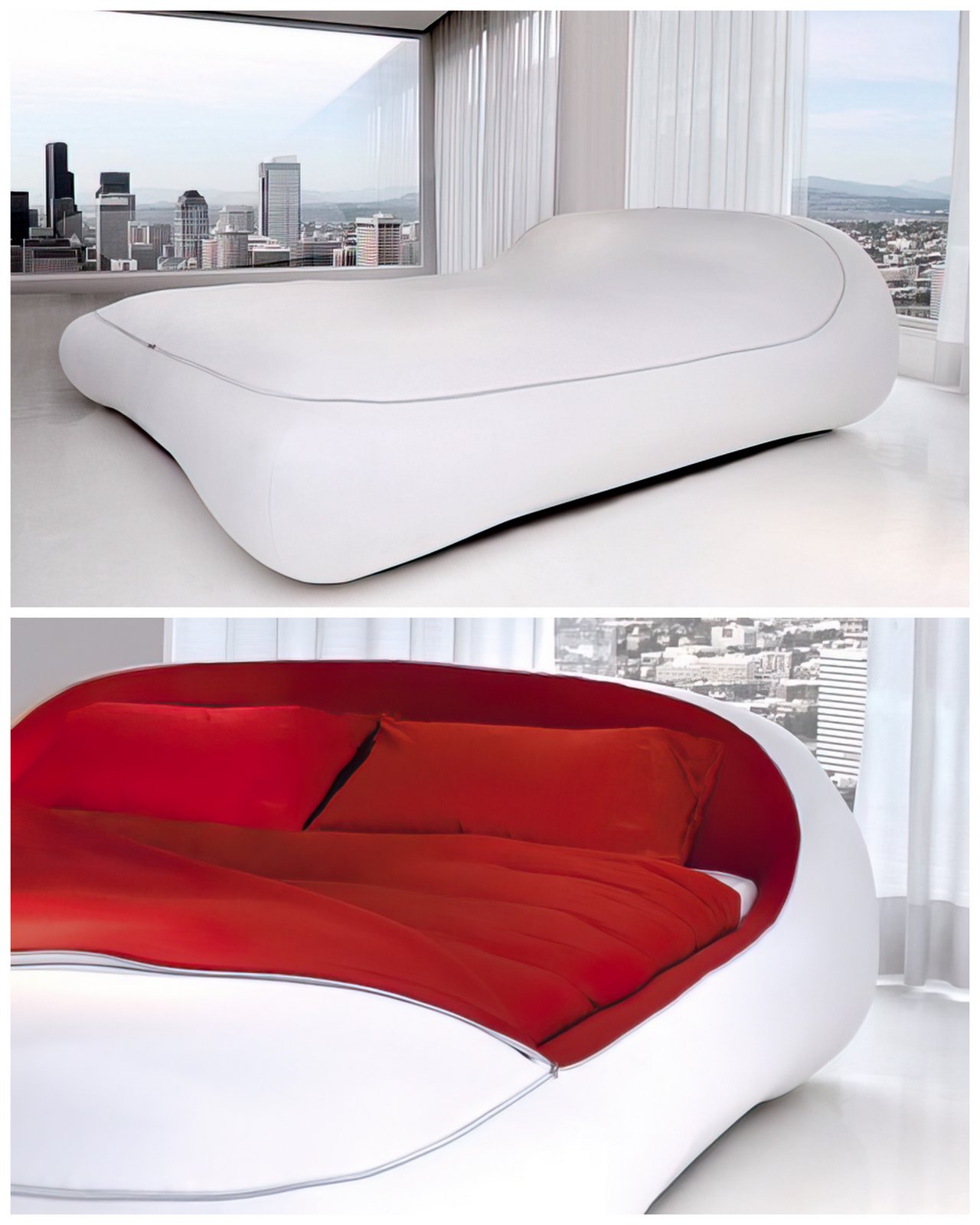 ---
10) Semi-circular rocking wooden bed
A sleek yet rustic design for a bedroom, and you could probably take out the stabilizer beneath and the bed would rock back and forth. (Designer unknown.)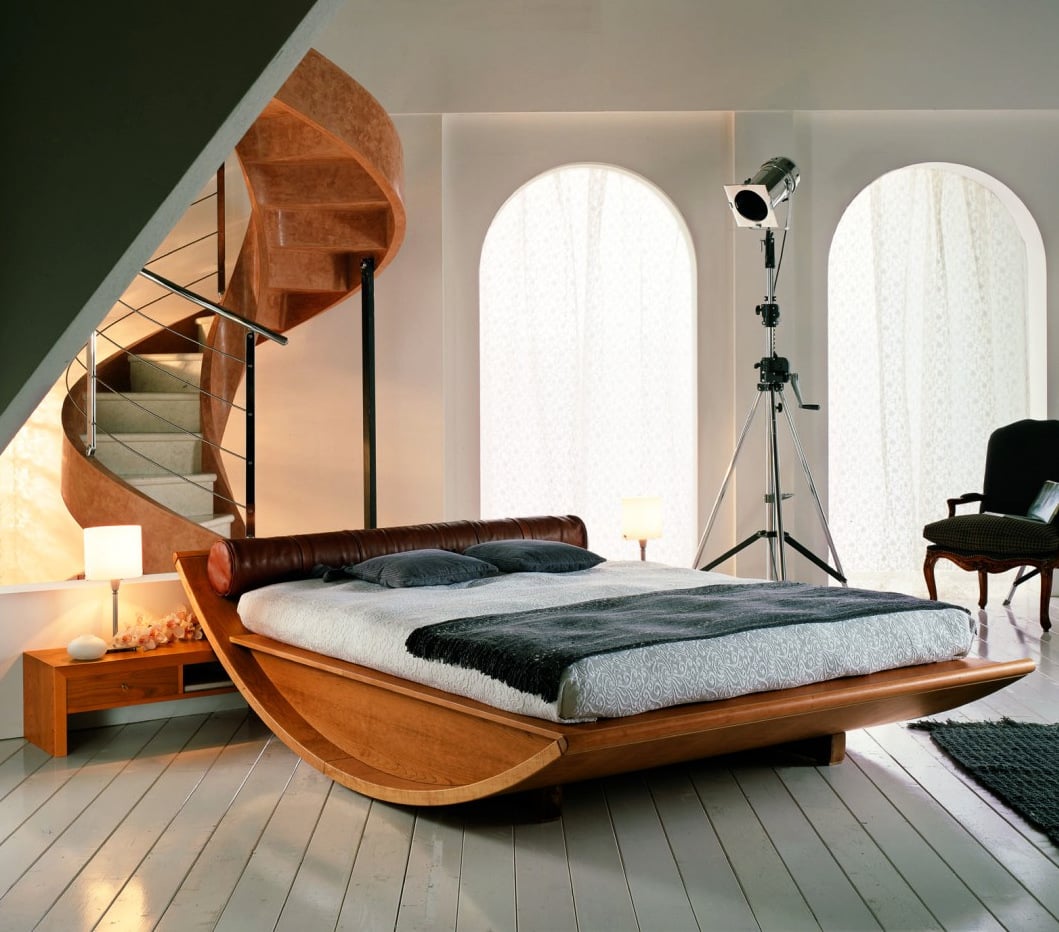 ---
11) Mason Tufted Upholstered Low Profile Platform Bed by Haute House Home
With the tufted surround and the aqua blue sequined mattress cover/bedspread, this almost could be a mermaid bed.
---
12) 650-gallon aquarium headboard tank
This eye-catching aquarium bed was custom-made by Acrylic Tank Manufacturing for Furnitureland in South Jamestown, North Carolina, and was featured on the Animal Planet series "Tanked" in 2012.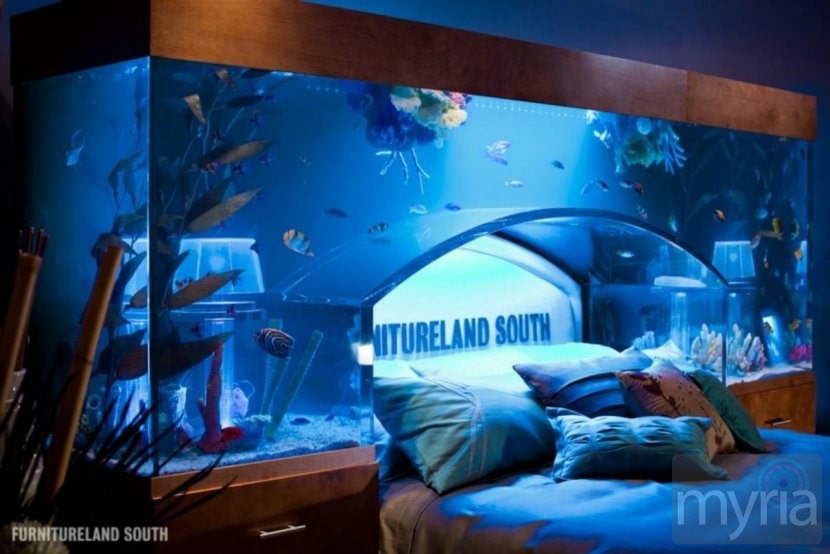 ---
13) Oslo Round King Leatherette Bed
Here's a huge round bed that used a standard king-size mattress. This modern low-profile bed is another one you can't get now, but was once available here.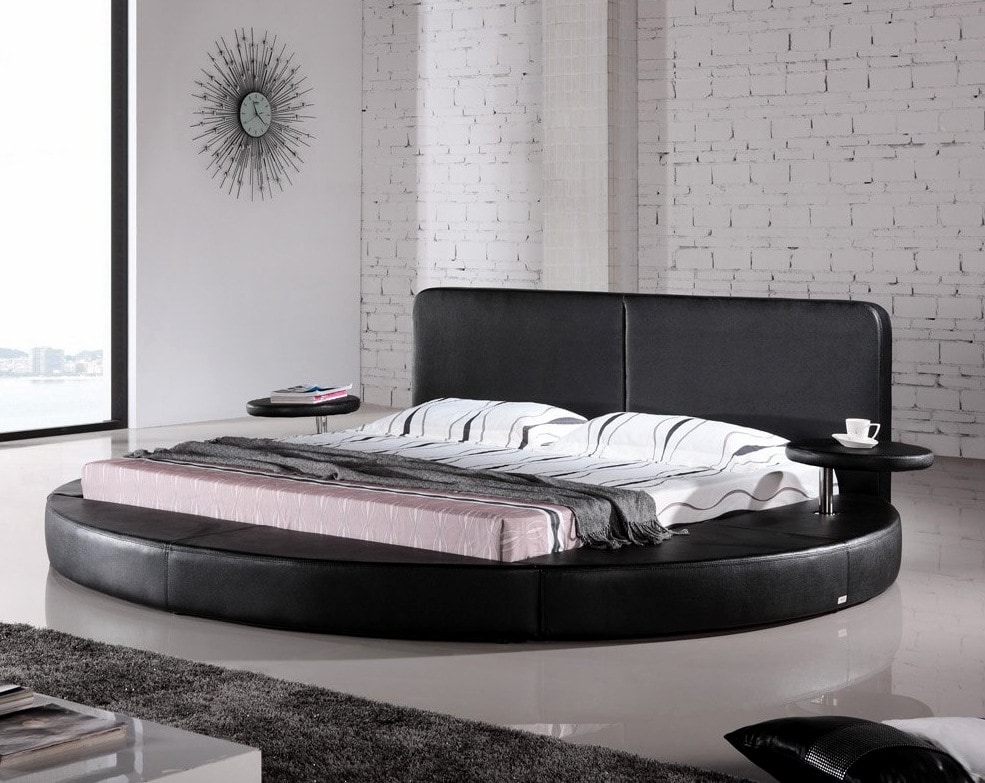 ---
14) A beer barrel bed for beer lovers
In one hotel in Ostbevern, Germany, you used to be able to spend the night inside a vintage beer barrel!
The hotel's Airbnb page said back in 2014, "The barrel is from the 19th Century and was in use until about 1995. One barrel can be rented as a double bed or a single bed."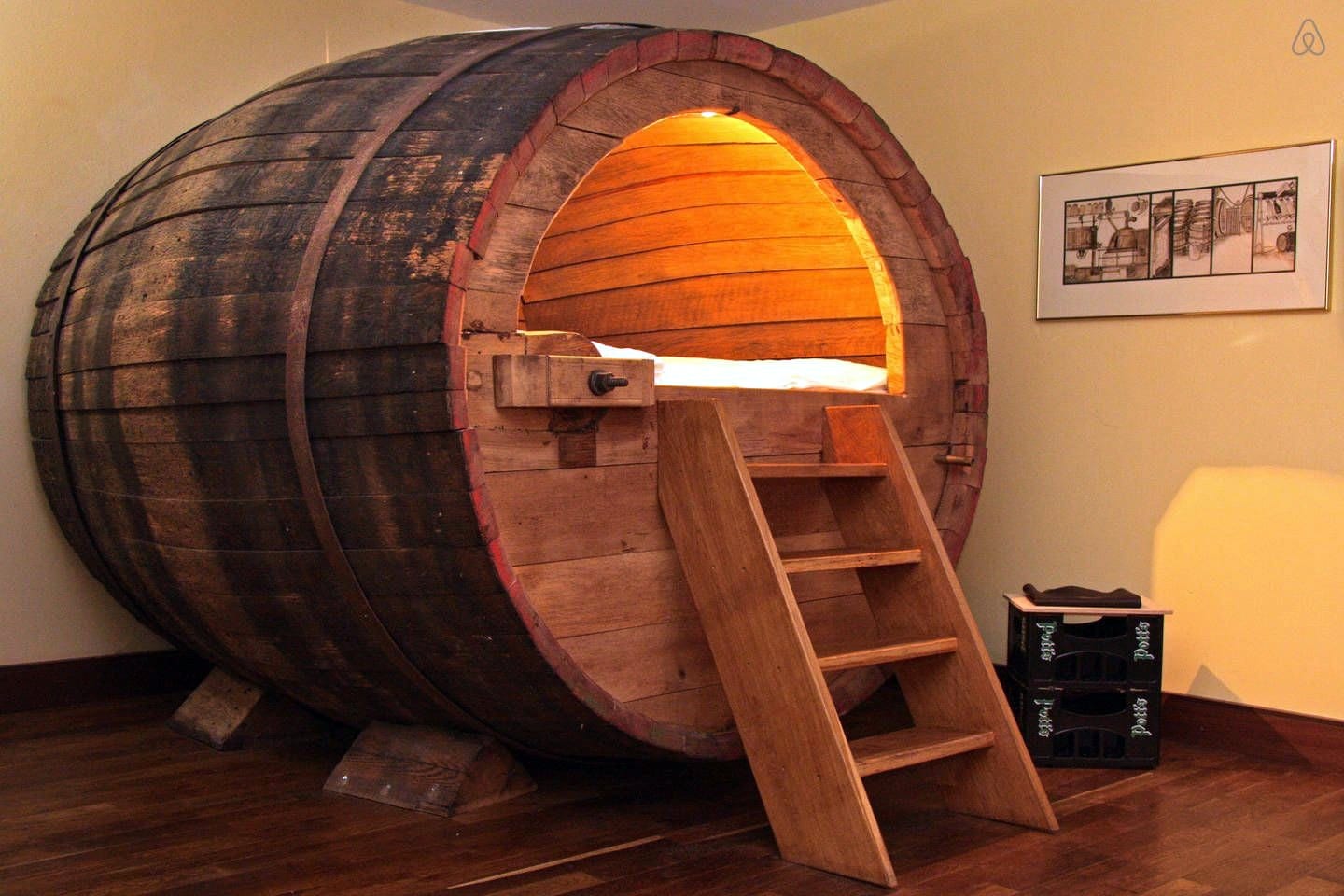 ---
15) Deluxe barrel bed
Here's another take on the barrel bed — this one a more luxurious version at the Yeatman hotel in Portugal.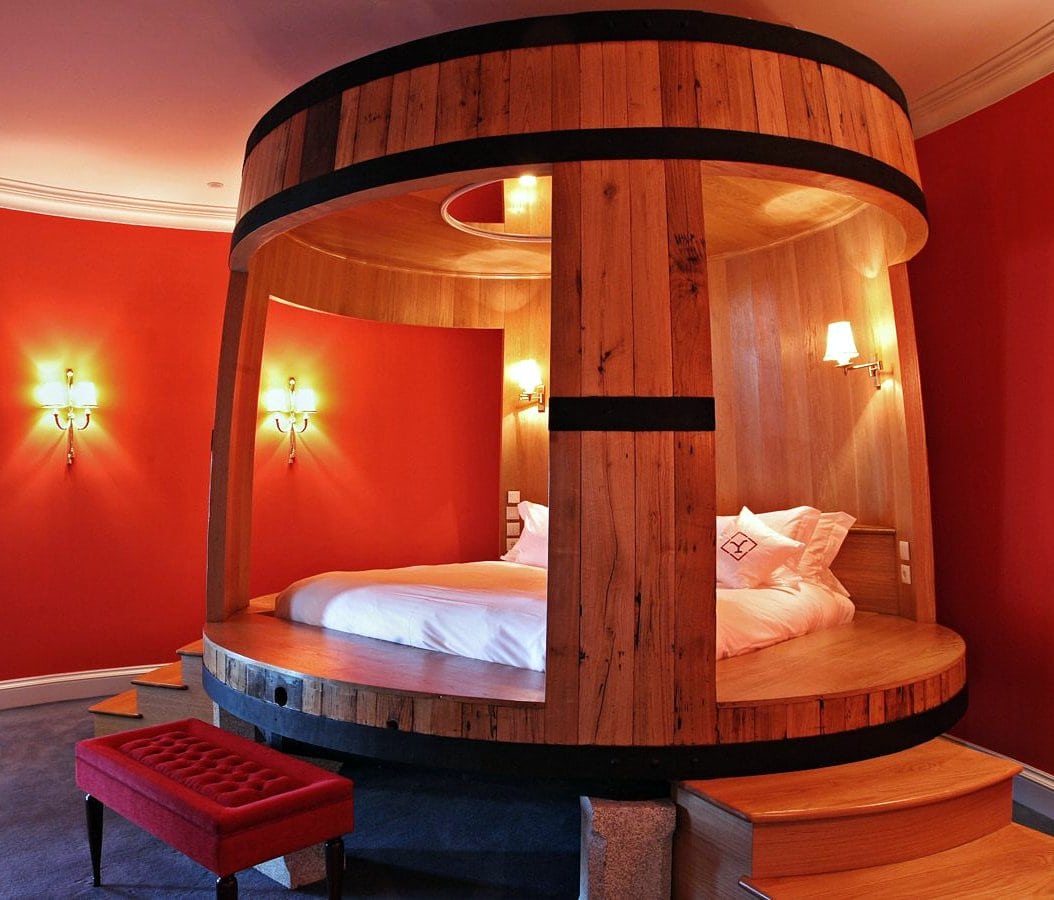 ---
16) Leisure Season swing bed with canopy
This covered hammock-style swing bed came with a canopy, making it suitable for indoors or out. It was available via Amazon, but apparently is no more.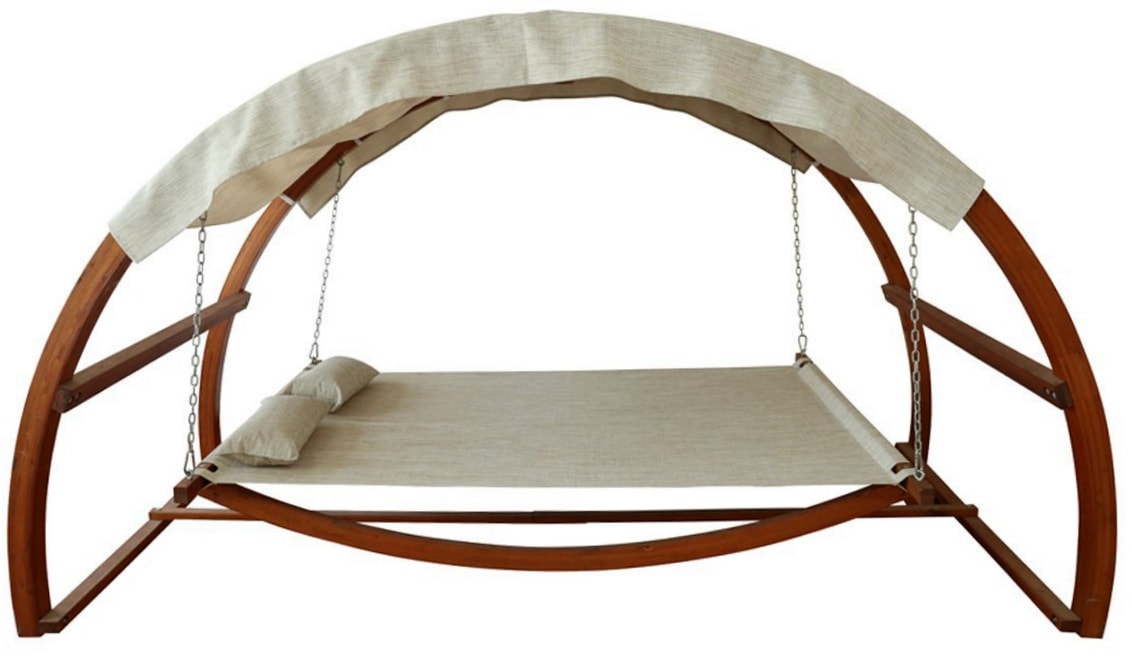 ---
17) Giant seashell bed
We don't know who made this sweet bed that sits inside an enormous soft clamshell-style canopy, but we love their creativity.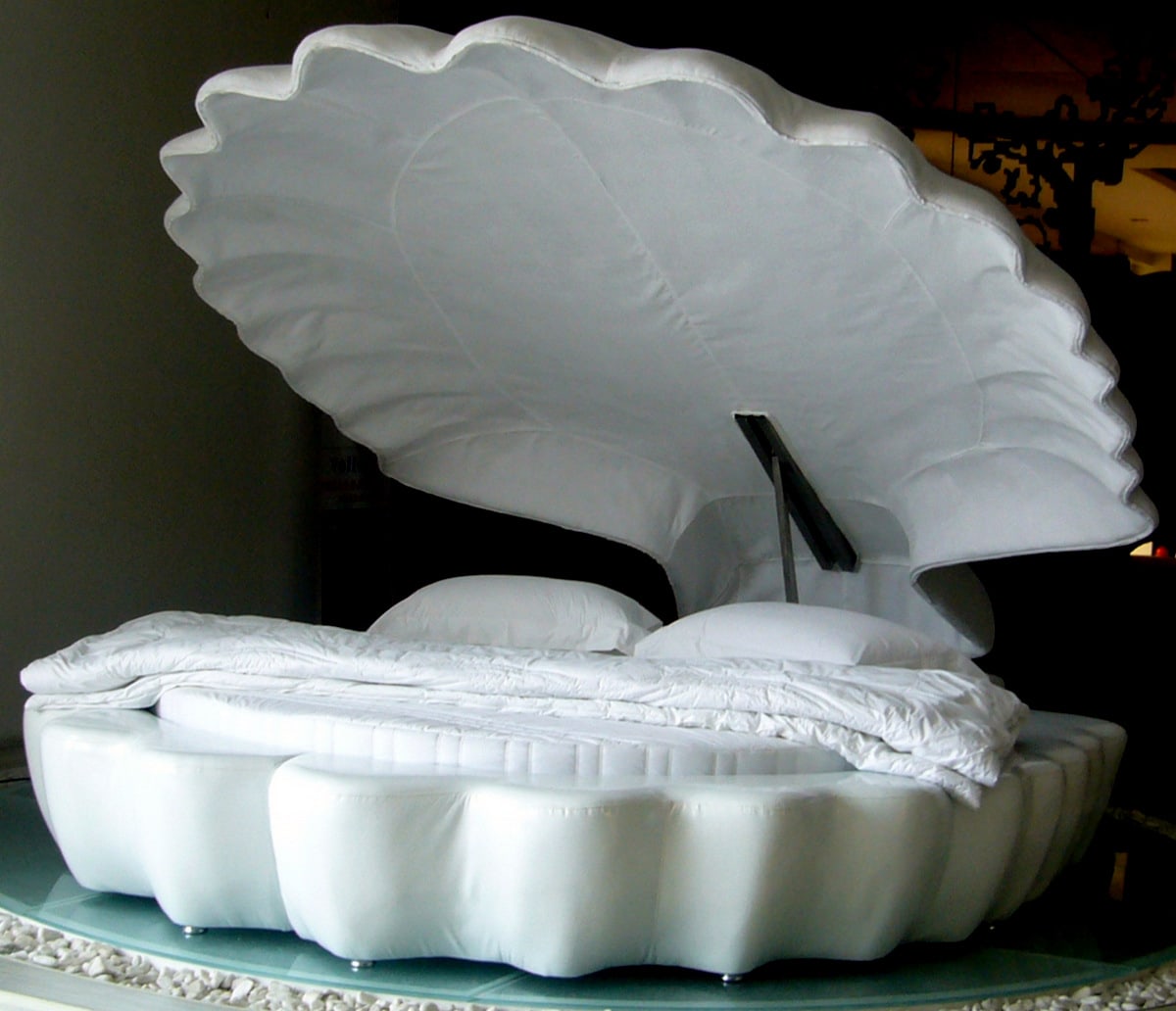 ---
18) Chinese antique-style open carved wedding bed
This amazing antique bed had detailed open carvings and many other ornate wood piercings. (You can find a couple of similar models on Amazon.)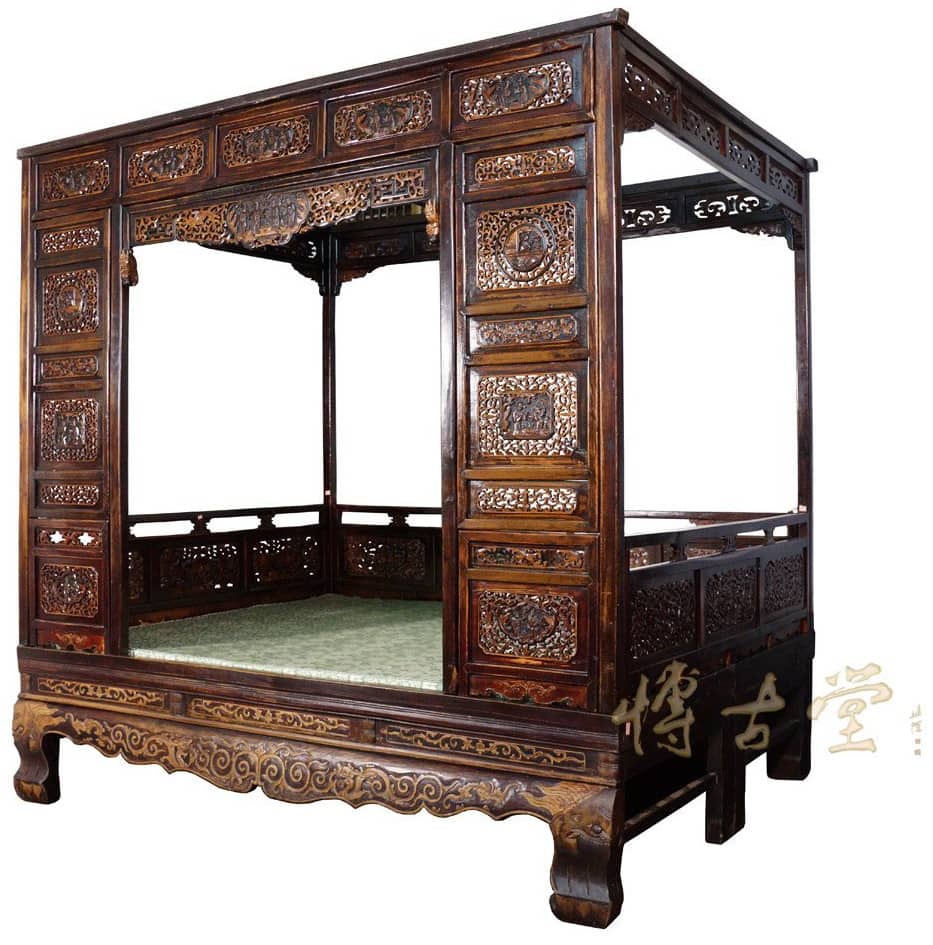 ---
19) Wasatch Silver Creek Aspen Canopy Log Bed
These Aspen canopy log beds are individually handcrafted. The Log Cabin Rustics shop notes, "The vertical pickets give a simple and yet sturdy look to the canopy log bed while the Aspen logs provide character and give the Silver Creek bed a rustic appearance."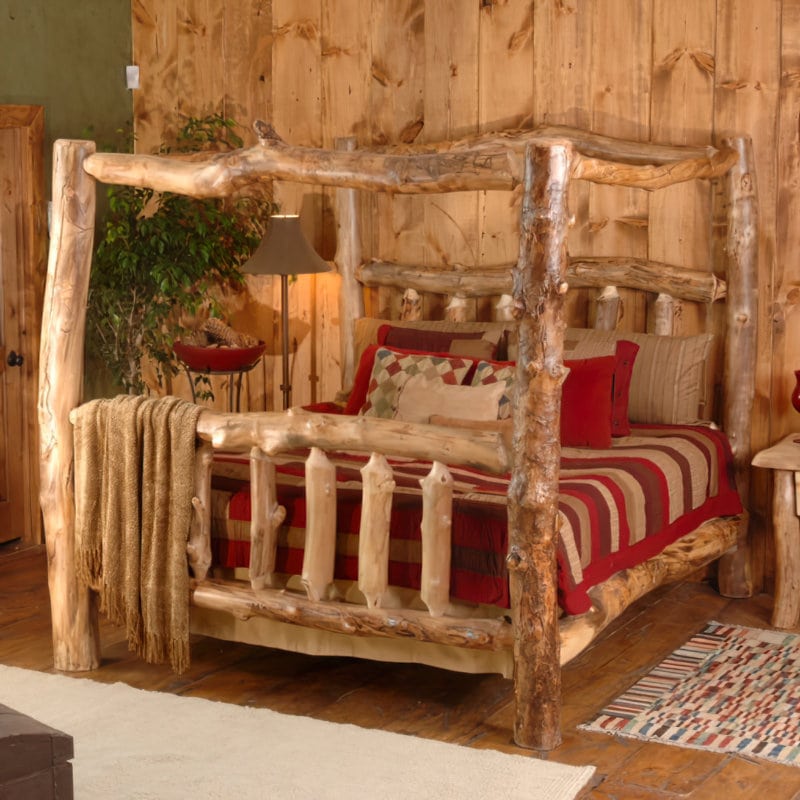 ---
20) Royal luxury with an elaborate platform bed
Here was the over-the-top setup in the Royal Suite at the Burj Al Arab Hotel in the United Arab Emirates.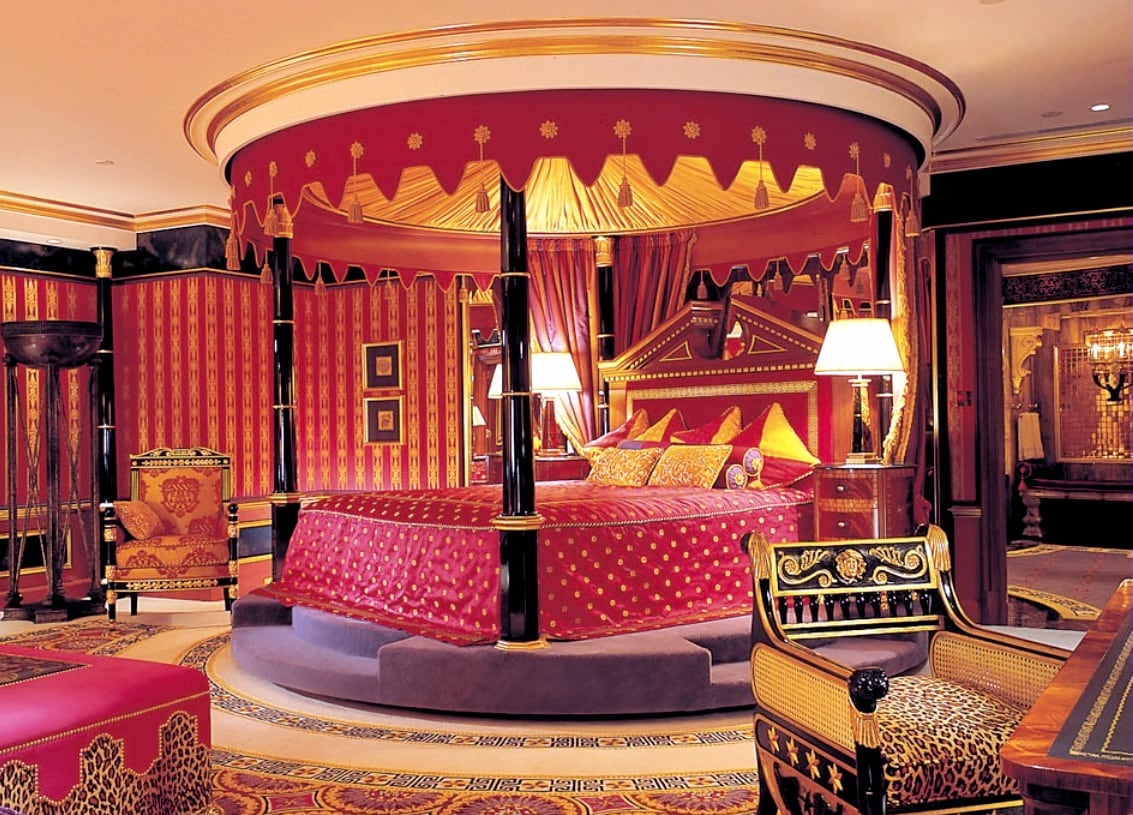 ---
21) Twig and branch wooden bed
This amazing rustic bed was at the Lake Placid Lodge in New York.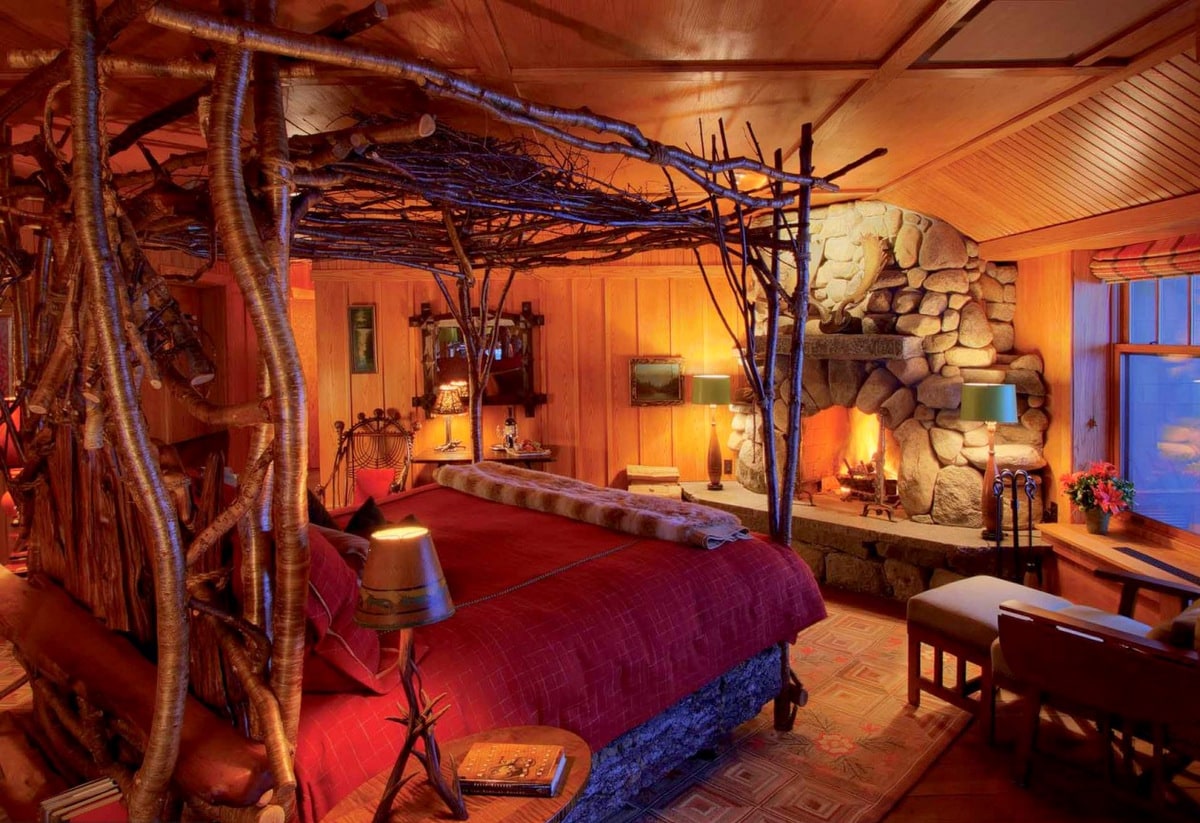 ---
22) Floating hammock bed
These large swinging hammock-style beds from the Floating Bed Company work indoors or out.
---
23 & 24) Two unique canopy beds
We couldn't track down the creators of these two canopy beds — one with a curved awning-style headboard, and the other with a gorgeous classical structure with drapes — but they were too fantastic not to include. (If you like these, you might also want to check out 70 beautiful vintage canopy beds from the 1970s.)