If you don't already have a gingerbread house holiday tradition in your family, start now with this easy-to-assemble how-to that is way too much much fun to customize.
Whether kids are part of the process or not, you may be surprised how much you love building and decorating the house. Seriously: playing around for an hour with tinted icing, m&ms and peppermints and other candies, cookies, marshmallows and different types of cereal? (Of course, eating lots of the candy and other decorations is part of the party.)
This classic recipe and template set comes to us courtesy of a 1977 issue of the Wilmington News-Journal, with an icing recipe and additional tips from McCormick.
How to make a gingerbread house: What you need for the recipe
Gingerbread for the house
1 tbsp. butter, softened
6-1/4 cups all-purpose flour
6 tbsp. double-acting baking powder
1-1/2 tsp ground cinnamon
1 tsp ground cloves
1/4 tsp ground nutmeg
1/4 tsp ground cardamom
1/8 tsp salt
3/4 cup honey
1-3/4 cup sugar
1/4 cup butter
1/3 cup fresh lemon juice
1 tbsp. finely grated lemon peel
1 egg
1 egg yolk
This recipe makes enough dough for one 11-by-17 inch gingerbread cake. Three of the cakes will be needed to make the house shown.
The cakes may be baked in three batches ( they become firmer and easier to handle as they age so it is possible to do the baking over a period of several days as long as they are cut as soon as they are baked.
Or, this recipe may be doubled or tripled and the cakes made in one or two batches. In that event, a very large mixing bowl and extra pans will be needed.
The icing recipe is intended to make enough for the whole house, but generous decorations may require more.
Cut out the cardboard patterns (see directions with diagrams) for the house and its base as shown in the diagrams. Set them aside.
With a pastry brush or paper towel, lightly coat an 11-by-17 inch jelly roll pan with one tablespoon of soft butter. Sprinkle one-fourth cup of flour into the pan, and tip it from side to side to coat it evenly. Then turn it over and knock out the excess. Set the pan aside.
Sift six cups of flour, baking powder, cinnamon, cloves, nutmeg, cardamom and salt together into a large mixing bowl and set them aside.
Create sugar plum visions with a gingerbread house
Preheat the oven to 325 degrees. In a heavy four to five quart saucepan, bring the honey, sugar and butter to a boil over high heat, stirring with a large spoon until the sugar is dissolved and the butter melted. Remove the pan from the heat, mix in the lemon juice and lemon peel, and cool to room temperature.
Beat in two cups of the flour-and-spice mixture, add the egg and egg yolk, and then beat in the remaining four cups of flour-and-spice mixture.
Flour hands lightly and knead the dough until smooth, pliable and still slightly sticky. If it is too moist to handle, beat in more flour by the tablespoon.
Place the dough in the jelly-roll pan, and with a lightly floured pin, press and roll it out as evenly as possible using fingers, force it into the corners. Bake for 35 minutes, or until the cake is firm and the top brown.
Let the cake cool in the pan for four or five minutes, then using the templates as a guide, cut it into the requisite shapes with a pastry wheel or small knife. Do not be tempted to cut the house pieces freehand; they must fit together precisely to make a stable structure.
Set the pieces aside on wax paper until they cool completely. Bake and cut the remaining cakes in the same fashion.
---
Royal icing (Prepare recipe 2 times for assembling)
3 tablespoons powdered egg whites
1 pound confectioners' sugar, sifted (about 4 cups)
6 tablespoons water
Sift the confectioners' sugar into the whites one-half cup at a time, beating thoroughly after each addition. Continue to beat for about five minutes, or until a stiff icing is formed.
Fill a pastry bag fitted with a round decorative tip with a cup of the icing. While the pieces of gingerbread are still spread out flat, decorate the front, back and sides of the house with windows, shutters, doors and the like similar or as desired to the gingerbread house shown.
When the icing is completely dry, assemble the base and walls of the house according to the directions elsewhere on this page, using the icing as cement to hold the pieces together. Let the walls stand undisturbed until the icing is completely set.
With the remaining icing, cement the roof and chimney pieces in place, and after the icing is set , decorate the roof and chimney. Make more icing if necessary.
For more eleborate decoration, coat candies and cookies on one side with the icing and press them gently onto the walls and roof. As a final touch, sift a snowlike coating of sugar over the base. (For patterns, see below.)
Decorations
Assorted candies, cereals and cookies (see Decorating Ideas below)
Additional Royal Icing (3 to 4 times recipe)
Equipment needed
4 baking sheets
Hand or stand mixer
Printed pattern (see template link below)
Pattern templates cut from foam board, heavy card stock or file folders
Parchment paper
Pizza wheel
Rolling pin
Sturdy base for gingerbread house, such as large baking pan or plywood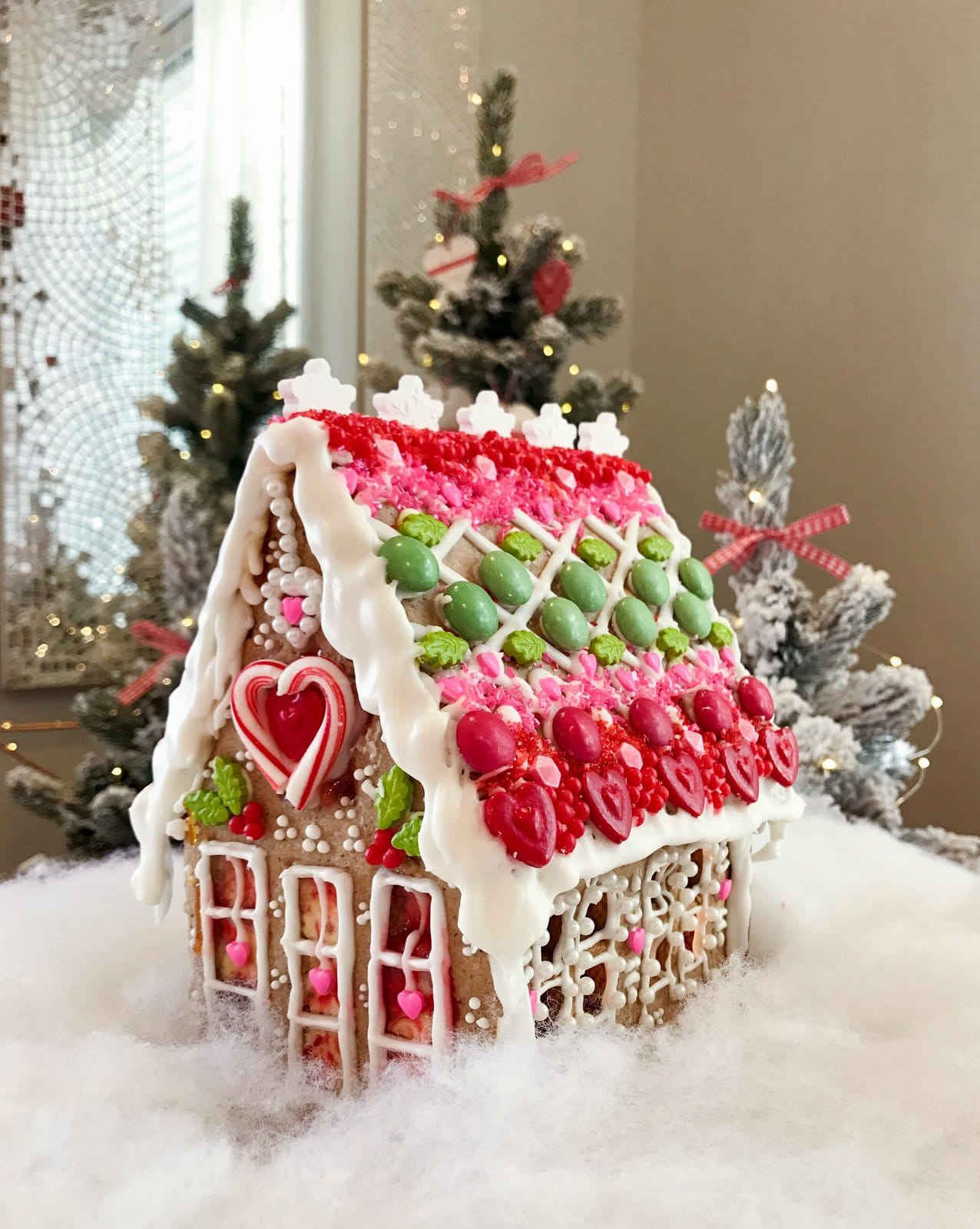 How to make a gingerbread house: Directions
Make patterns from stiff cardboard following the dimensions and shapes in the diagrams. (Where pieces are identical, one pattern will do.)
Bake three 11-by-17-inch gingerbread cakes according to the Gingerbread for House recipe.
While the cakes are still in the pans, lay the patterns on the cakes and cut the warm gingerbread with a pastry wheel or a small, sharp knife. If desired, cut out a door and a window or two as well.
>> Get 25 more decorating ideas here! Gingerbread house gallery: 25 candy homes for the holidays
With a wide metal spatula, slide the cakes onto wax paper to cool. (There will be gingerbread left over, including one piece big enough to be cut into gingerbread figures.)
Outline door and window frames, shutters and other trim on the walls with the egg-white-and-sugar icing made from the Gingerbread House Decoration recipe. After the wall trim decorations are dry, set the base on a cutting board or a large piece of heavy cardboard so the house can be moved from place to place when it is finished.
Assemble the house, using icing to cement the pieces together.
First, ice the bottom of one end wall — the back of the house — and the bottom and one end of a side wall; fit them together and place them carefully on the base. Ice the bottom and two sides of a corner post and place it between them.
Hold the pieces upright for three or four minutes, until the icing has set. Ice the opposite end of the side wall and the bottom of the other end wall, and fit that wall onto the house for the front.
Ice and add the post in the corner. Hold these pieces until set. Ice the two remaining corner posts and put them in place front and back, allowing space for the side wall as shown in the exploded view of the house. Now ice the bottom and ends of the remaining wall and put it into place. Hold the wall until it is set, then let the icing dry for at least 10 minutes.
Ice the top edges of the end wails and lay the roof over them. The roof pieces should meet, but do not try to overlap them ; simply fill the space between them with icing to make a roof peak. Hold the roof until it is steady. Then ice and join the two chimney parts, ice the bottom and put the chimney in place, holding it until it sets.
Decorate the house as fancifully as desired with icing and with candies and cookies. (If more icing is needed make another batch.) Apply the roof icing first, forcing it through a pastry bag or swirling it on with a small metal spatula. Don't forget a crown of icing snow for the chimney top.
Spread the candies and cookies with icing and press them gently into place. When the house is done, sprinkle the roof and base with snowdrifts of confectioners' sugar.
Repeat rolling and cutting process until all of the templates have been cut out. (Dough scraps can be refrigerated and added to next batch of dough for rolling and cutting.) Gently slide parchment paper with dough onto baking sheets. To minimize distortion during baking, let cut-out dough stand at room temperature for 2 to 4 hours.
6) Preheat oven to 350 F. Bake each baking sheet 25 to 30 minutes or until gingerbread pieces are hard to the touch. Cool baking sheets on wire racks until gingerbread pieces are cool enough to handle. Place gingerbread pieces on cutting board. Place pattern templates on gingerbread. Trim with pizza wheel or small knife to template size. (Sandpaper may be used if house is not going to be eaten.) Cool gingerbread completely before assembling gingerbread house with royal icing.
7) Prepare Royal Icing recipe 2 times. (If using hand mixer, prepare 2 single batch recipes. If using stand mixer, prepare 1 double batch recipe.) Beat all ingredients in large bowl with electric mixer until stiff peaks form.
For stand mixer, beat on low speed 7 to 10 minutes. For hand mixer, beat on high speed 10 to 12 minutes. (If using stand mixer or for stiffer icing, use 1 tablespoon less water per recipe.) Each single recipe yields 3 cups icing. (To keep prepared royal icing moist, cover bowl with damp towel.).
How to make a gingerbread house: Assembly
Windows: Use royal icing to pipe windows onto side walls and peaked walls; set aside. (See Tips on adding and decorating windows.)
Room/s: Pipe icing along bottom of side wall and bottom and side of peaked wall. Join the pieces so that the side wall is positioned on the inside edge of the peaked wall. Press sides together and hold in place several minutes until icing begins to set. If necessary, prop with cans, mugs, etc., to hold walls up until icing dries.
Attach other peaked wall and side wall with icing. Let stand at least 1 hour before continuing.
Roof: Remove any props before adding roof. Pipe icing along top edges of 4 walls. Top with the 2 roof pieces, adjusting until roof pieces meet at the top. Pipe a line of icing where the 2 roof pieces meet. Press and hold in place for several minutes to allow icing to set. Let stand at least 3 hour before decorating. If necessary, reinforce joints with additional icing.
Gently move house to the board or baking sheet base. Secure to base with icing, then ice entire base to simulate snow. Decorate as desired (see tips below). If you're handy with a decorating bag, finish roof and wall edges of your gingerbread house with icing scrolls or shells.
How to make a gingerbread house: The decorations
Browse through your supermarket's cereal and candy aisles. You'll find plenty of inspiration for decorating your gingerbread house, yard and accessories. Here are some more decorating ideas to give you a start!
Stepping stones: Vanilla wafers, licorice pieces or candy of your choice for stepping stones
Shutters for windows: Pretzel sticks or wafer cookies
Roof shingles: Necco Wafers or mini shredded wheat cereal (use sugar-coated shredded wheat cereal for snow effect). Use royal icing to attach. Start from bottom edge of roof and overlap roofing material, working your way to peak of roof.
Fence: White chocolate or chocolate covered small pretzel twists
Brick: Red licorice bites
Porch pillars: Peppermint sticks
Chimney: Cocoa-flavored corn puff cereal, multi-colored cereal pieces, caramel and/or chocolate-covered popcorn pieces, chocolate covered raisins, held in place by royal icing "mortar"
Snowman: Marshmallows or royal icing balls
Sled/toboggan: Small strip of fruit roll-up for wooden slats attached with royal icing to pretzel sticks used for sled runners
Evergreen trees:
Use ice cream cones as the base for evergreen trees. Using a decorating bag filled with green-tinted royal icing and a star tip, pipe elongated stars one layer at a time beginning at the bottom of the tree. Continue piping star layers until you reach the top of the tree.
For easy evergreen trees, use a small spatula to cover ice cream cones with green-tinted icing, using the spatula to gently pull icing out slightly to form tree branches.
For Christmas tree lights, use a decorating bag filled with tinted royal icing and a round tip to pipe dots on the tree, or sprinkle with fruit-flavored sweetened rice cereal.
For a larger tree, stack 2 cones together, attaching them with royal icing. Decorate as described above.
For small tree, trim bottom of cone. Decorate as described above.
Dab a small amount of white royal icing on tree branches for a snow effect.
Shrubs or bushes: Green spearmint leaves jelly-type candy
Porch steps: Wafer or any rectangular cookies
Icicles: With a decorating bag filled with untinted royal icing and small round tip, pipe small icicles from house and porch roof.
Candies: Gumdrops, starlight mints, mini marshmallows, red hots candy, and various colors of licorice pieces all make decorative additions.
Royal icing and decorating/assembling tips
When making Royal icing, be positive that all bowls and utensils are completely free of grease. Icing will break down with even a drop of grease in the mixture. Keep icing covered with a damp cloth to prevent drying while assembling and decorating gingerbread house.
Prepare additional batches of Royal Icing for tinting. Divide icing among small bowls. Tint with food color of your choice for decorations.
For ease in decorating, use disposable decorating bags and decorating tips.
Use round tip for piping light strings and/or garland.
Use round tip and desired McCormick Food Color to pipe holiday lights.
Use a star tip or leaf tip to make wreaths. Pipe wreaths on waxed paper and let harden completely before attaching to house.
Use leaf tip, round tip, or basketweave tip to create bows or ribbons.
Place gingerbread house on a sturdy base, such as a board or baking sheet, to support the finished house.
Place base and gingerbread house on a lazy Susan for ease in turning the house when decorating.
For the windows
For precise placement of windows, cut out window templates and place on unbaked gingerbread. Lightly score around template with a small knife, outlining window. Baked gingerbread will retain faint score marks.
Thin yellow-tinted royal icing with small amount of water and paint windows. Let dry, then paint on curtains with thinned royal icing tinted with your choice of food color.
Pipe window pane divisions with untinted icing in decorating bag using a small round decorating tip.
>> Get 25 more decorating ideas here! Gingerbread house gallery: 25 candy homes for the holidays