Through the 80s, we heard over and over that Folgers coffee was "the best part of wakin' up" — often despite evidence to the contrary (🍆🚿🍩).
In the years since, the old-school coffee joined their peers Sanka, Taster's Choice and Yuban in the museum of forgotten brands.
Meanwhile, Starbucks and other pricey coffee companies came to dominate the market… despite the fact that Starbucks doesn't even have a catchy little jingle.
But now Folgers has one more thing the $4 latte giant doesn't have: 80s rocker Joan Jett yelling about their bad reputation.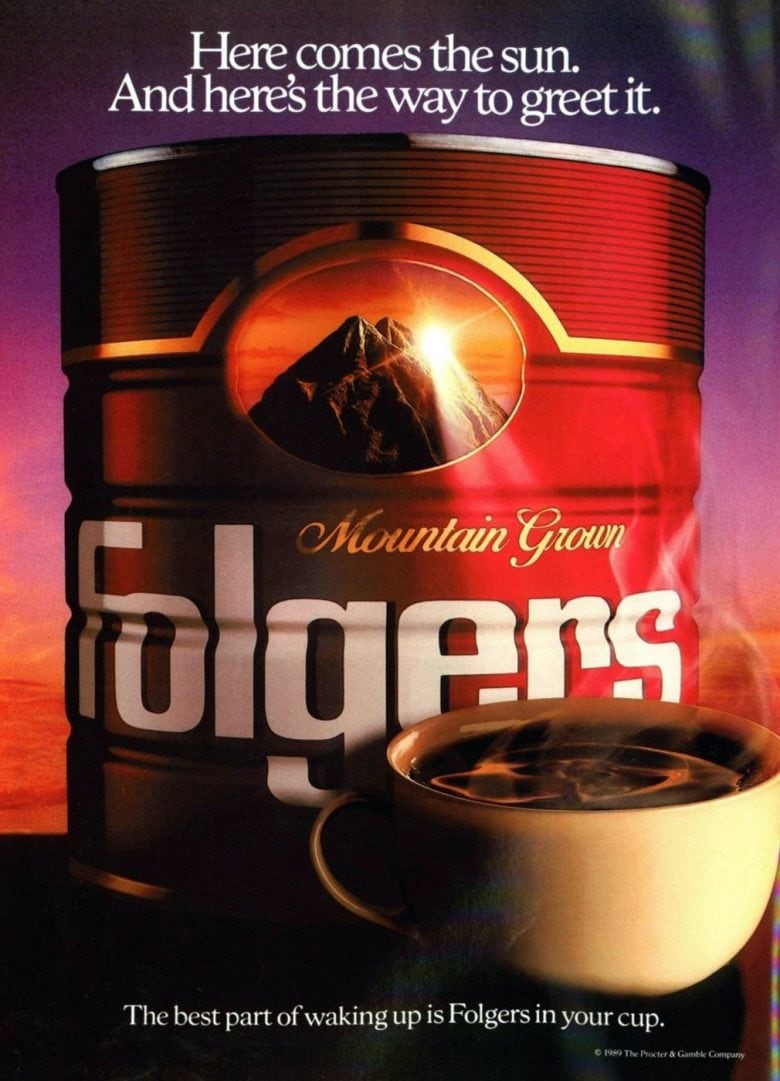 Not your grandma's Folgers coffee?
The company itself, now a part of Smuckers, notes that although Folgers is an iconic American brand with an iconic jingle, "when it comes to coffee, their reputation is a bit stale."
"We have heard from consumers, that 'Folgers is not for me,'" said Geoff Tanner, Chief Commercial and Marketing Officer at The J.M. Smucker Co. He adds that people have "dismissed the brand and labeled Folgers as their grandma's coffee."
While it's true that they don't get anywhere near the attention that some other coffee companies receive on social media (a quick search shows that #Starbucks has been tagged about 650 times more than #Folgers), that doesn't mean that they're not big news in the retail world.
Surprisingly, the numbers from Statista show that in 2020, Folgers sold more than a billion bucks worth of their brew blends.
Faced with such a misalignment — low cultural prestige compared with high sales — how can a company turn their prestige up a few notches while also boosting sales?
Smucker's decided to embrace the truth by reaching out to Gen Xers (and others) who'd pretty much forgotten about the brand, or had filed it away as a relic of days gone by.
But forget about the old gentle melody and "wakin' up" tagline — the new vibe in this new Folgers commercial hits play on an 80s tune and punkish ethos: Joan Jett and the Blackhearts' iconic track, "Bad Reputation."
Folgers Bad Reputation: With a rebel yell
"The music complemented our desire to address people's misperceptions about Folgers coffee head-on with a punk-rock rebelliousness that celebrates the swagger of our 35 million annual drinkers," says Erica Roberts of PSOne, the ad agency for Smucker's.
"There is no better song to convey that feeling than Bad Reputation."
Capitalizing on 80s nostalgia is nothing new, but they threw in something unique: they added New Orleans jazz to the music mix.
Wait — what does that have to do with coffee?
As the company explains, it turns out that Folgers coffee beans are toasted and roasted in the Big Easy.
"The deep sense of pride for its city is inherent throughout the campaign, which features local legends like 'Trombone Shorty,' who collaborated on the music track to give it an authentic New Orleans vibe, and a host of other NOLA natives, including Folgers employees."
I don't give a damn 'bout my reputation.
Living in the past, it's a new generation.
Rock on.🤘