As the season turns to fall, we start spending more time indoors, and start prepping for the holidays and cooler weather.
Get into the spirit of autumn by making your home warm and welcoming, colorful and cozy.
Fall home decor tips include those provided by Linly Designs and Mosaik Design & Remodeling
Color your home for fall
Use home accessories to introduce new colors into your palette that reflect the mood of the fall season.
For example, if soft blues and yellows dominate your décor, add greys, bronzes or dark chocolates to create an entirely new fall palette. If you have a neutral color scheme, try amethysts, wines, spicy reds or soft orange hues to add warmth and richness to your room. These warm, rich tones will evoke comfort year round.
Bring in metallic tones to add elegance and a modern feel to your space. Gold, bronze and copper toned metals can bring warmth to your home.
Metal-toned nesting tables can make a wonderful addition if you entertain frequently and if space is at a premium, and they can be placed in front of a sofa or chair and then stored away as a single end table when not in use. Lamp bases are another easy way to introduce metal tones.
Fall home decor: Autumn-friendly fabrics and textiles
Autumn is the perfect time to replace any bright colors and lighter fabrics with earth tones and thicker, warmer fabrics. Pillows are the perfect accessory for autumn's cool nights, and can easily introduce comfort into any space.
Layering and adding texture is an easy way to give a room a cozy feel, just as you would add a scarf or sweater to your outfits.
Try a new wool rug on top of an existing rug, or add a handmade blanket or quilt on top of your comforter, and you create an entirely new look. Bring in cozy, textural elements like velvet pillows or a cashmere throw, and you add comfort and a touch of luxury to any room.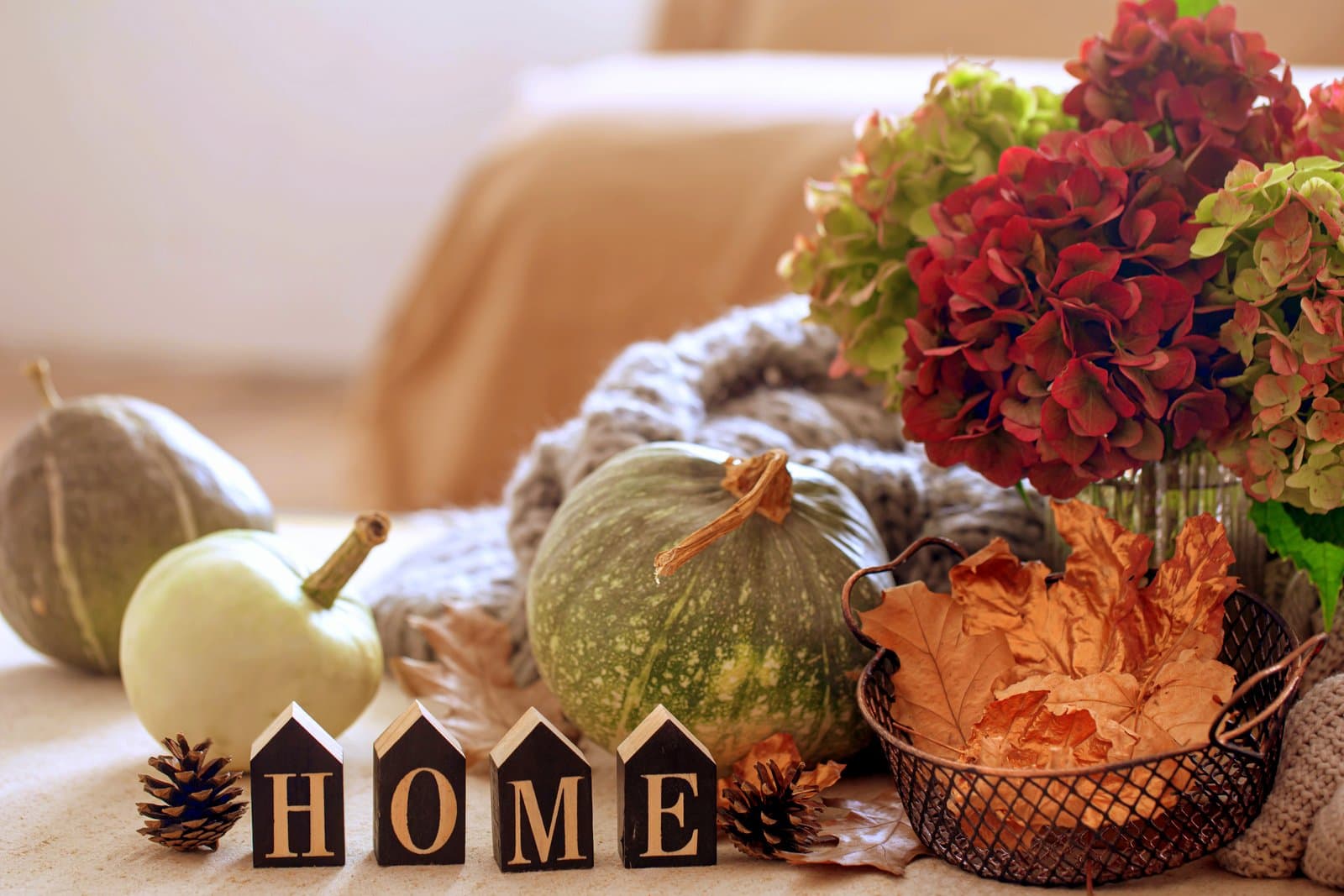 Fall home decor on the dining table
Typically considered summer décor, floral arrangements can easily be transformed for autumn with a few simple tweaks.
Adding browns, oranges, and burgundies to arrangements will bring a rustic feel to any home. Feathers, pumpkins, and gourds can also add texture while bringing something unexpected to the table.
Introduce autumn fabrics and tones through napkins and tablecloths, and accent the table with a seasonal napkin rings. Charger plates are also an easy way to incorporate fall patterns and designs, and can add style to a simple table.
Fall home decor: Autumn all around the house
Wreaths can easily be updated to incorporate seasonal colors. Add seasonal berries, pinecones, twigs, greenery, ribbons and pieces of fabric to set the tone for the season. Hang them up on a door or in the hallway, or lay them flat as centerpieces, and fill the middle with candles or other seasonal decor.
Update any simple chandelier with pops of foliage — both berry sprigs and branches can easily be intertwined to create a seasonal look. Change any bright bulbs to a lower wattage to bring in a warm autumn glow.
Who doesn't love the smell of pumpkin pie or apple cinnamon during the autumn months? Scented candles bring a welcome glow and autumnal warmth into any home. To get the ideal blend of aroma and light, experiment with candles of different sizes, and a range of votives, candle holders and warmers.