Creative decorating with indoor plants is a thing!
The use of green plants in home decor is a trend that has been growing for years. The creativity of homeowners and interior designers has inspired an explosion of creative indoor plant decorating ideas to try.
Besides just being pretty and adding a fresh, organic texture to your spaces — whatever your design style — you'll find that trying one or more of these houseplant decor concepts might be a great way to bring a little more life into your home.
Bonus: live plants are known to improve air quality, and can even naturally reduce stress.
Which indoor plants work best in creative interior design?
There are many types of house plants you can select for your design. Some of the most popular ones — most of which are represented in the gallery below — include:
Bromeliad & tillandsia (air plants)
Pothos
Spider plants
Snake plants
Aloe vera and a huge variety of other succulents
And take note: It's not just about putting a potted plant on your desk these days. Many people are using green plants for home decor as cleverly arranged centerpieces, vertical wall gardens, and unique stair-step enhancements — they're even putting their propagating plants prettily on display.
We've put together this gallery of gorgeous house plants decor to help inspire your next (or first!) indoor plant decorating project.
---
Multicolored moss and plant landscape framed on a shelf
Guests might do a doubletake when they realize this impressionistic "painting" is actually a collection of live moss.
---
Living room with accent wall of leafy green plants
Even if your thumb isn't exactly green, your rooms still can be! A vertical wall garden concept like this one lends itself well to artificial greenery, especially if you incorporate mainly silk varieties.
---
Indoor plants decorating idea: Terrarium with plants on a table
These dainty terrariums are an inexpensive and easy-to-assemble way to bring the vibrant colors and textures of indoor plants decor to your living spaces.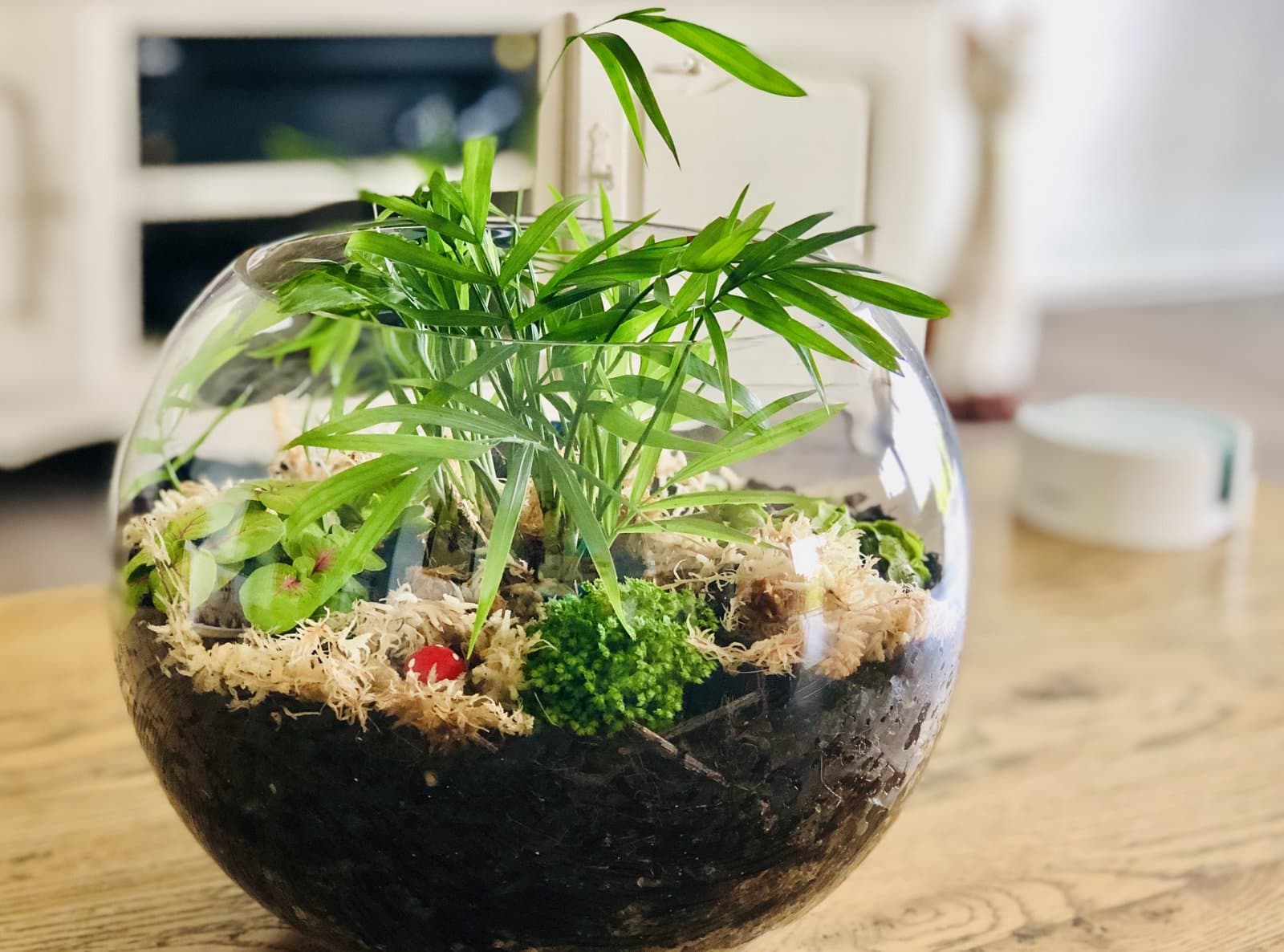 ---
Three small pretty terrariums with plants of varying colors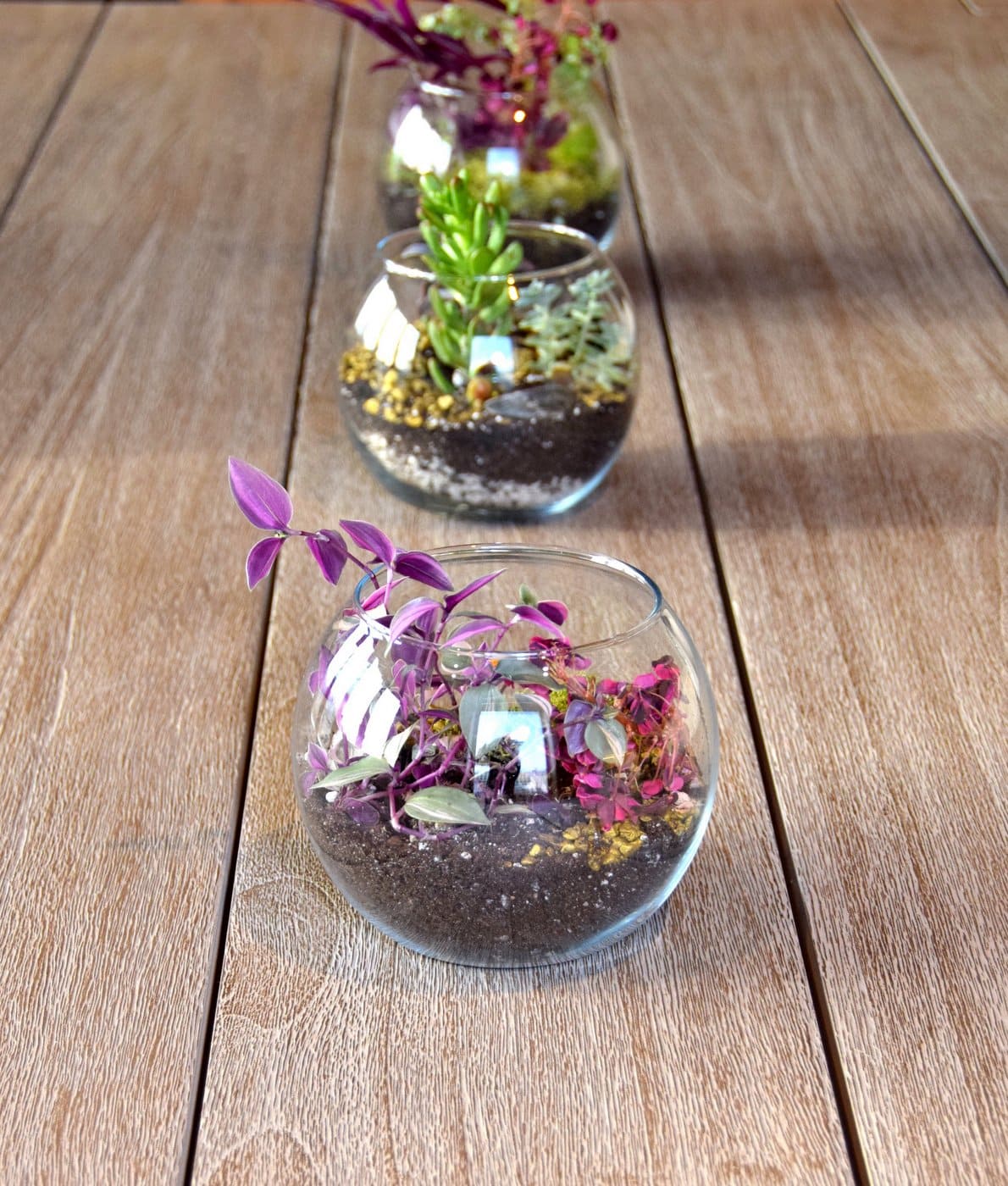 ---
Succulents and other plants in glass cases on shelves
This indoor plants decor integrates simple and low-maintenance succulent terrariums — while being an incredibly striking design concept.
---
Plants hanging from stairs surrounding a reading nook
Decades of home dwellers have opted for the pothos-in-a-pot on their coffee table, but have you considered how well matched those trailing vines would be to an open-sided staircase?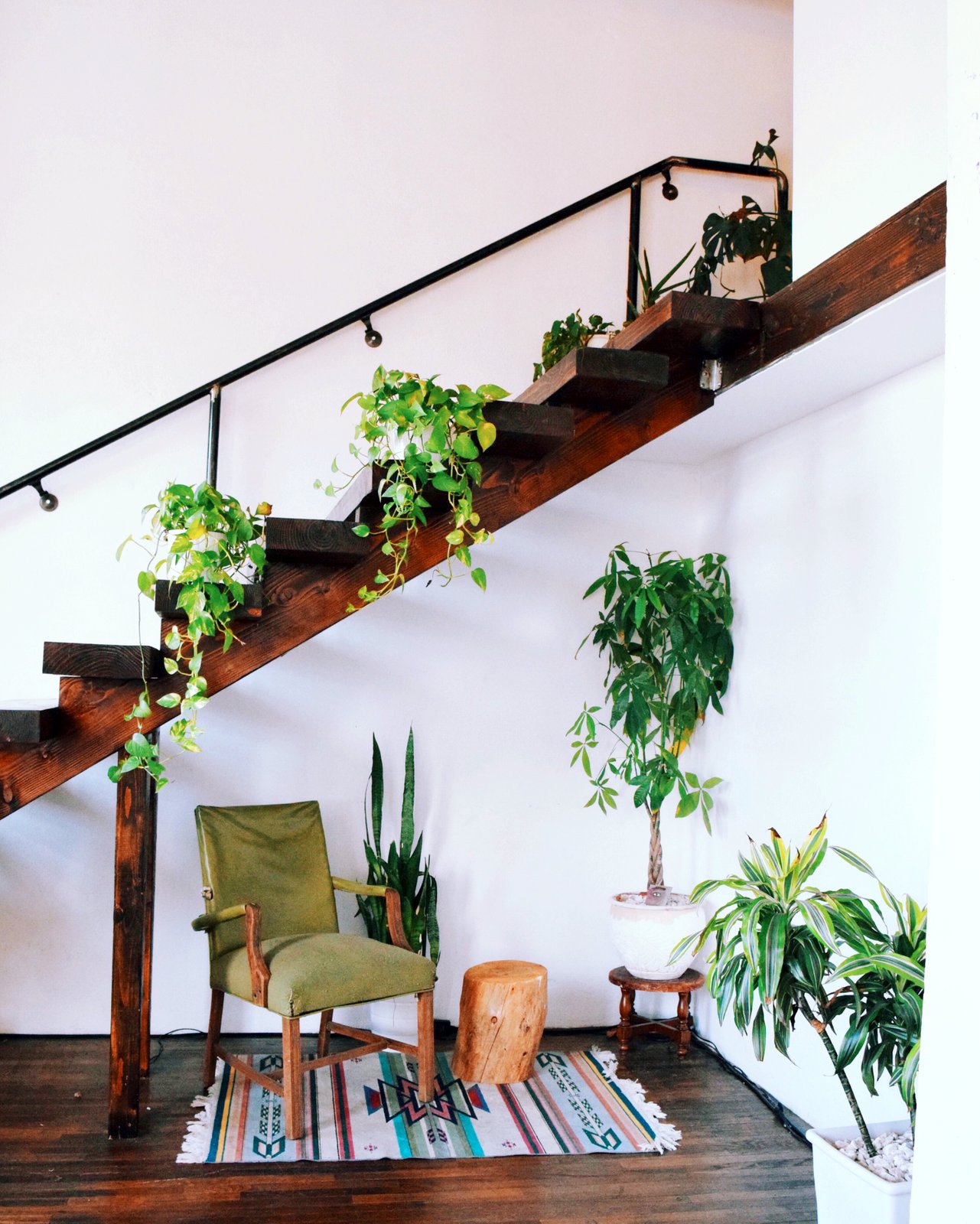 ---
Plants in glass vases in steps of staircase
…and if that isn't creative enough, how about the same concept, but as a sort-of propagation garden instead? Brilliant!
---
Rustic old wooden ladder with trailing ivy
Ivy trailing on a rustic ladder would add a lovely cozy vibe to your space.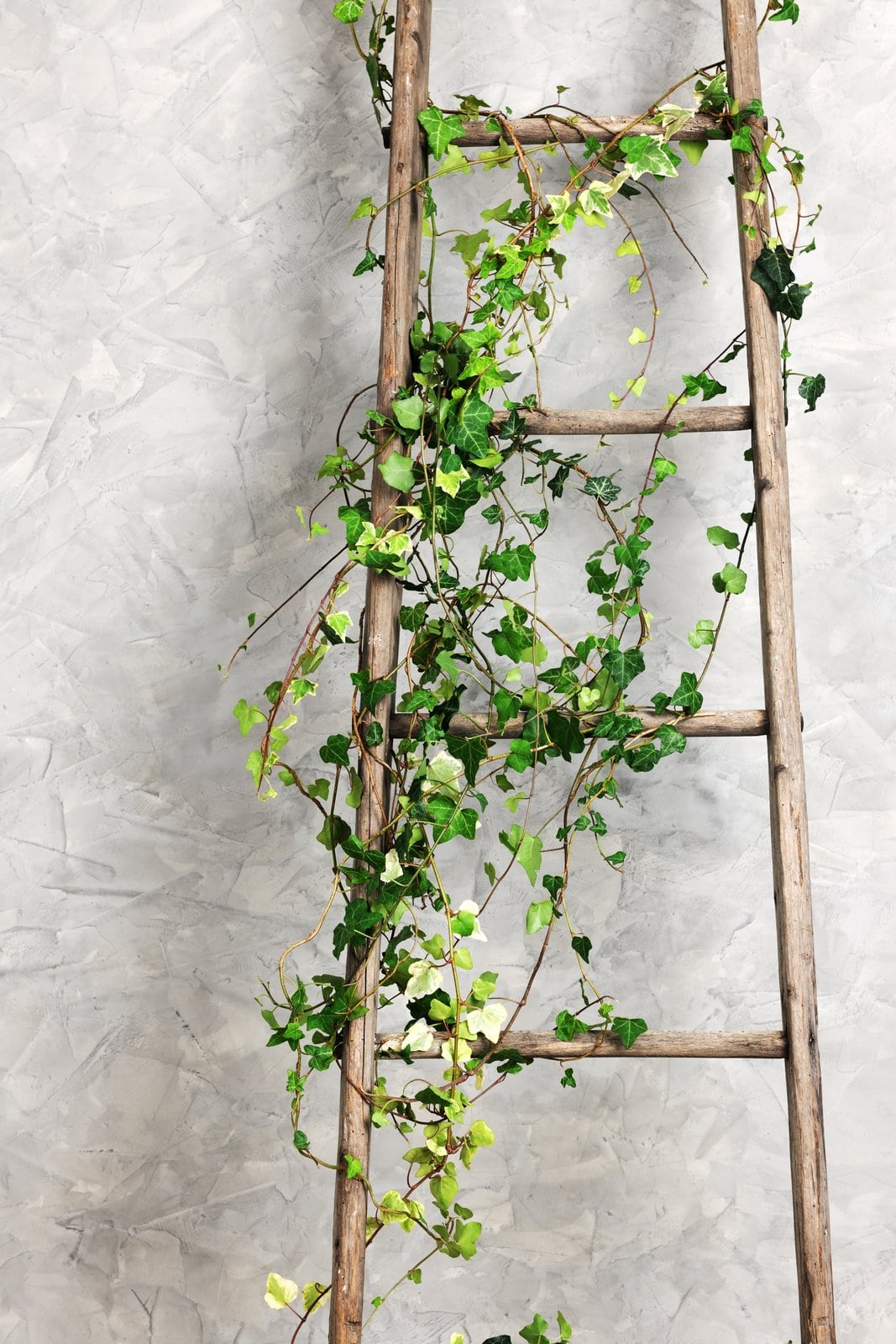 ---
Green plants built into a bookshelf and ivy hanging from a divider
Greenery touches can help soften decor that features a lot of straight lines.
---
Snake plant growing window barrier
An indoor window box filled with snake plants is an inspired way to let all the light in while still maintaining some privacy!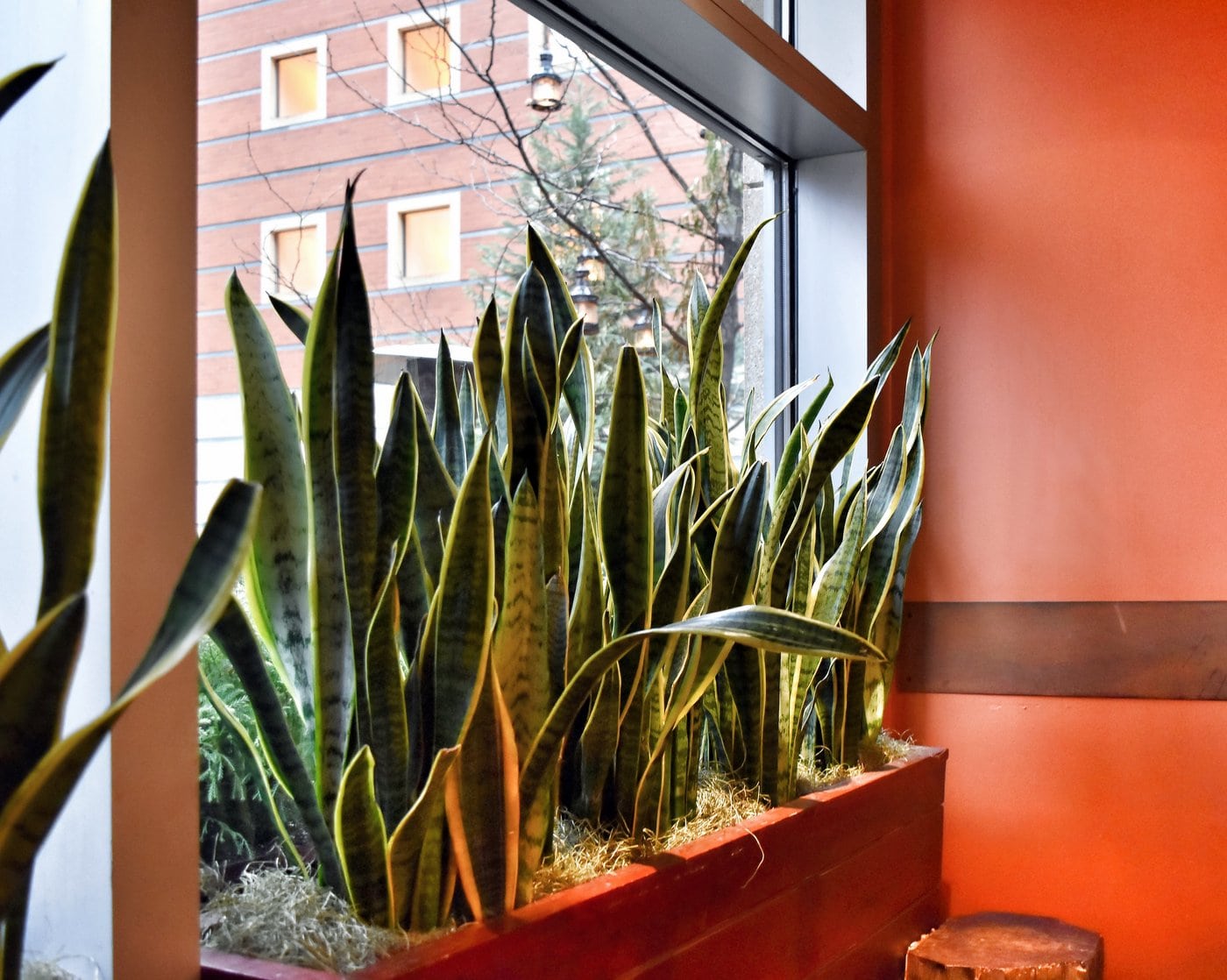 ---
Several shades of living green plants on a wall
A vertical garden of indoor wall plants is a clean and simple decor statement that works especially well in minimalist, monotone design schemes.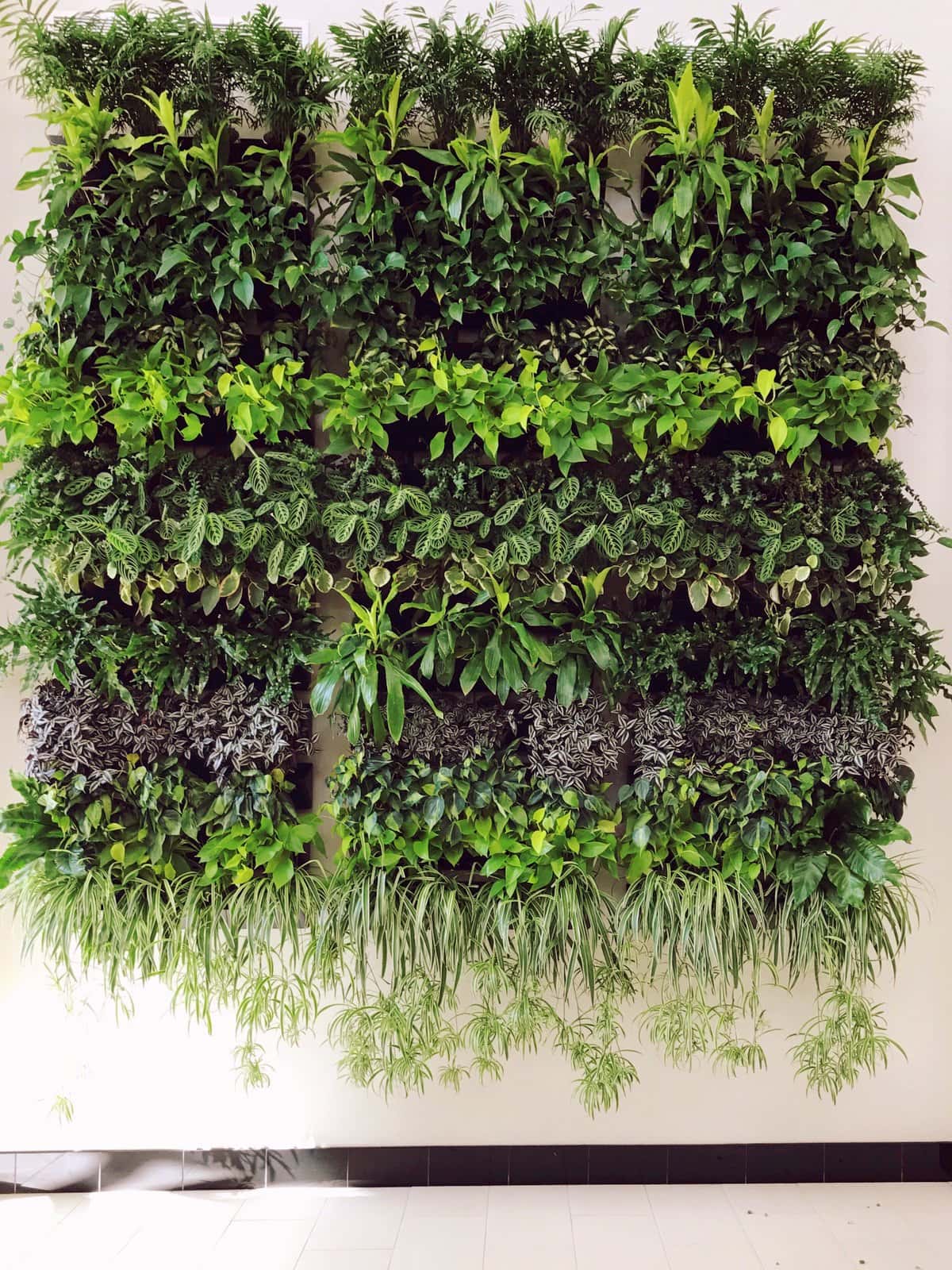 ---
Propagating plants make a beautiful wall decoration
Here's another brilliant way to present plant propagation as a beautiful, living design element.
---
Minimalistic plant decor
Small wall-mounted wooden crates with artificial plant stems
Yes, you can have the look of plant wall decor that is low-key and extremely low-maintenance.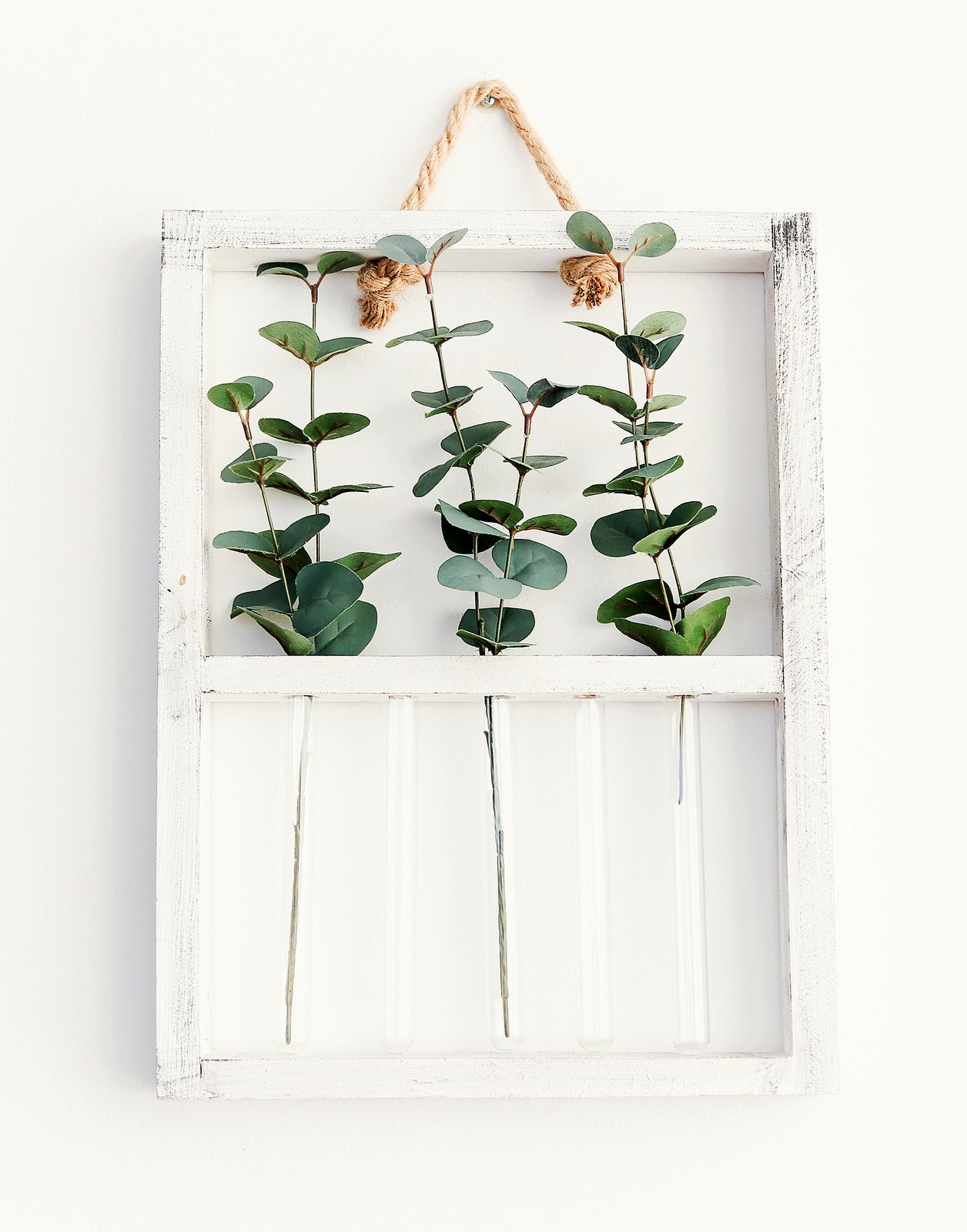 ---
Branch with decorative macrame plant hangers suspended
If you're a fan of boho chic or the 70s decor revival, sweet macrame hangers like these would be a perfect touch that marries a less fussy modern design ethos with a retro, bohemian vibe.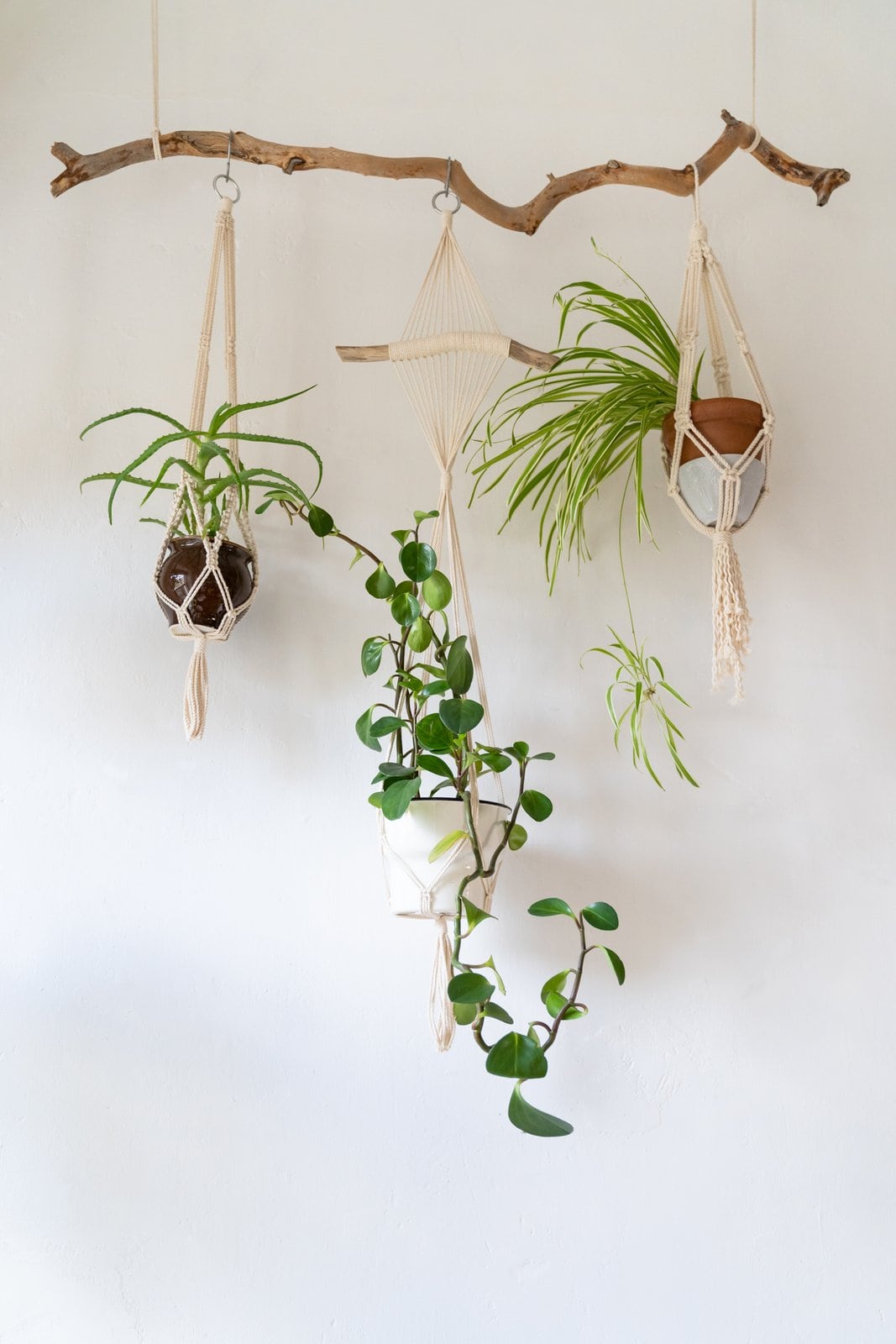 ---
White wall decoration with cactus in a pot
Show off your cactus and succulent collections with wall-mounted crates serving as shelving. This idea makes a lovely decor statement, while also freeing up counter- and tabletop real estate.
---
Tillandsia air plants suspended from seashells
Low-maintenance air plants don't need dirt to thrive, and they look pretty amazing.
For example, look below for an unusual way to display your air plants and a seashell collection. (See some more of the kinds you can get here.)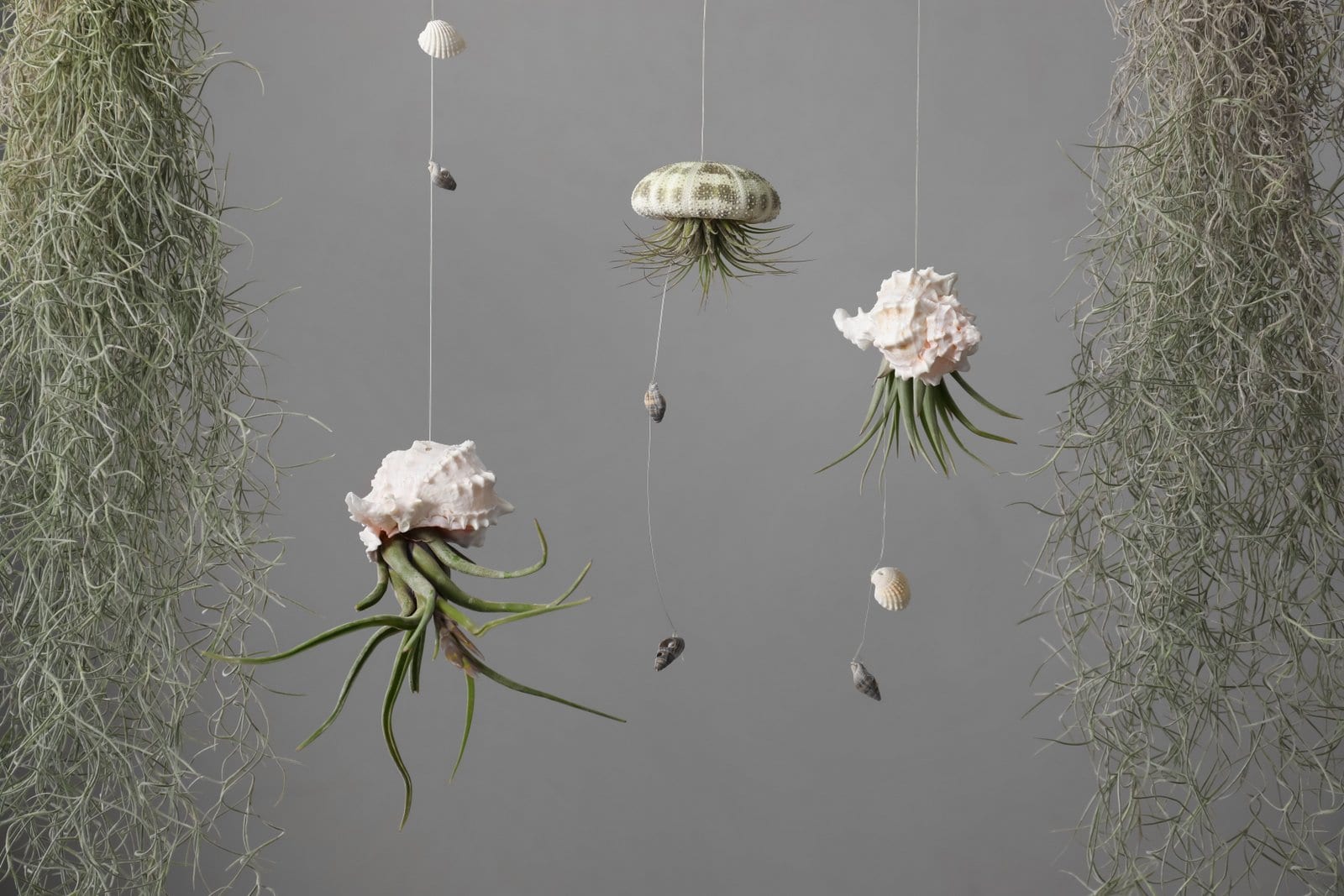 ---
Simple shelf with two small trailing succulents
Tip your terrarium concept on its side to display on a wall shelf like this — an especially effective look for trailing succulents.
---
Wall-mounted collections
When you love succulents and houseplants, you probably have a few… or 20. We understand this passion. Think how freeing it would be if the only limit to this indulgence was the amount of wall space you have available!
The following set of inspo photos feature a lot of creative ways to cozy up your decor with an indoor plants wall.
Matching terra cotta plant pots hanging on a wall
---
Plants in bubble terrariums on a wall with retro wallpaper behind
Dress up your wall by putting some plants in mod-looking plastic or glass bubble planters like these!
---
Wall of 12 simple painted cans with small plants
---
Brick wall with wall-mounted plant pot holders
---
Potted plants hanging on the wall
---
Wall with small white shelves and little potted plants
These beautiful little floating wall shelves with molded edges (like these here) make sweet homes for tiny plants and knick-knacks.
---
White on white modern houseplant display
All white everything decor really makes your plant babies pop. They will be the focal point in this design scheme!
---
5 wall-mounted planters in a staggered arrangement
---
A wall of simple plastic planter boxes with live green plants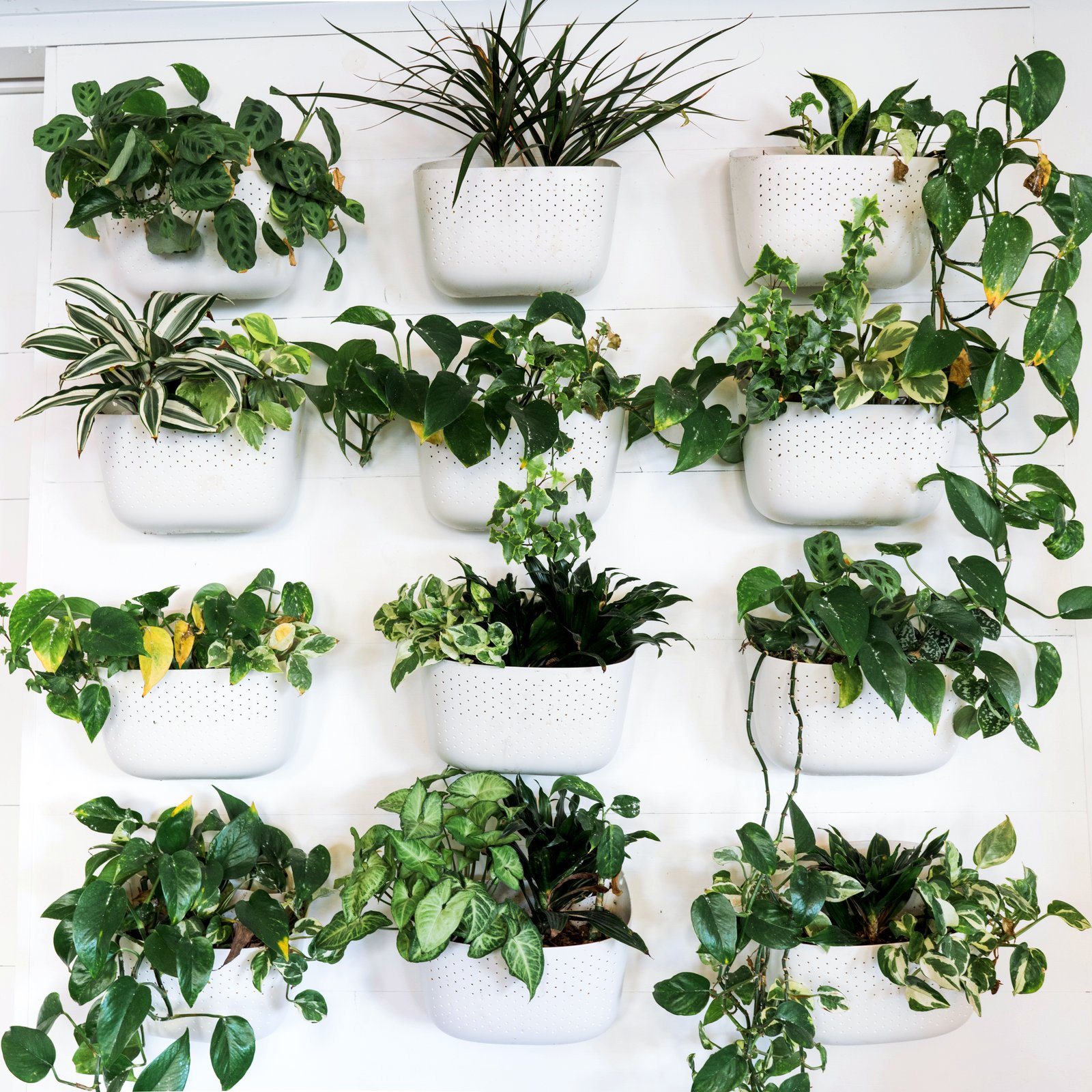 ---
Grid frame with green potted plants
Here's an eyecatching way to mount plants on the wall that is surprisingly simple: a metal grid frame, with loops that fit matching pots.
---
Pretty wall of super colorful plant pots with live plants
A range of colorful plant pots provide most of the color here — at least until all the flowers are blooming.
---
White wall with many blooming pink flowerpots