Once upon a time, TV viewers had to wait patiently each week for a new episode of their favorite series to drop. The show would be left on a cliffhanger in May, teased all summer, and the country eagerly awaited September to see where the story went.
And now? The September-May TV season schedules are practically forgotten. Streaming services have upended the old-school way, allowing carte blanche access to entire seasons worth of episodes – unleashing the phenomenon known as binge-watching.
While marathon viewing of multiple TV episodes has been around for decades, binge-watching burst onto the scene with the popular streaming service Netflix. Since then, it has become a popular way to spend free time, especially when people spend more time at home.
If you're going to binge…
Some of the most popular television streaming services include HBO, Amazon Prime Video, Hulu and, of course, Netflix.
Even with all those options, if the common perception was that on-demand TV meant a weekend-long, pajama-wearing marathon of TV viewing, survey respondents didn't see it that way.
A majority (73%) defined binge-watching as watching between 2 and 6 episodes of the same TV show in one sitting. And there's no guilt in it. Nearly three-quarters of TV streamers (73%) say they have positive feelings towards binge streaming TV.
To better understand why binge-watching has become such a cultural phenomenon, in 2013, Netflix worked with cultural anthropologist, Grant McCracken, to trace its evolution, and more importantly, to explore how and why it's resonating with today's viewers.
McCracken went into the living rooms of several TV viewers across the United States and Canada to explore their changing TV behaviors.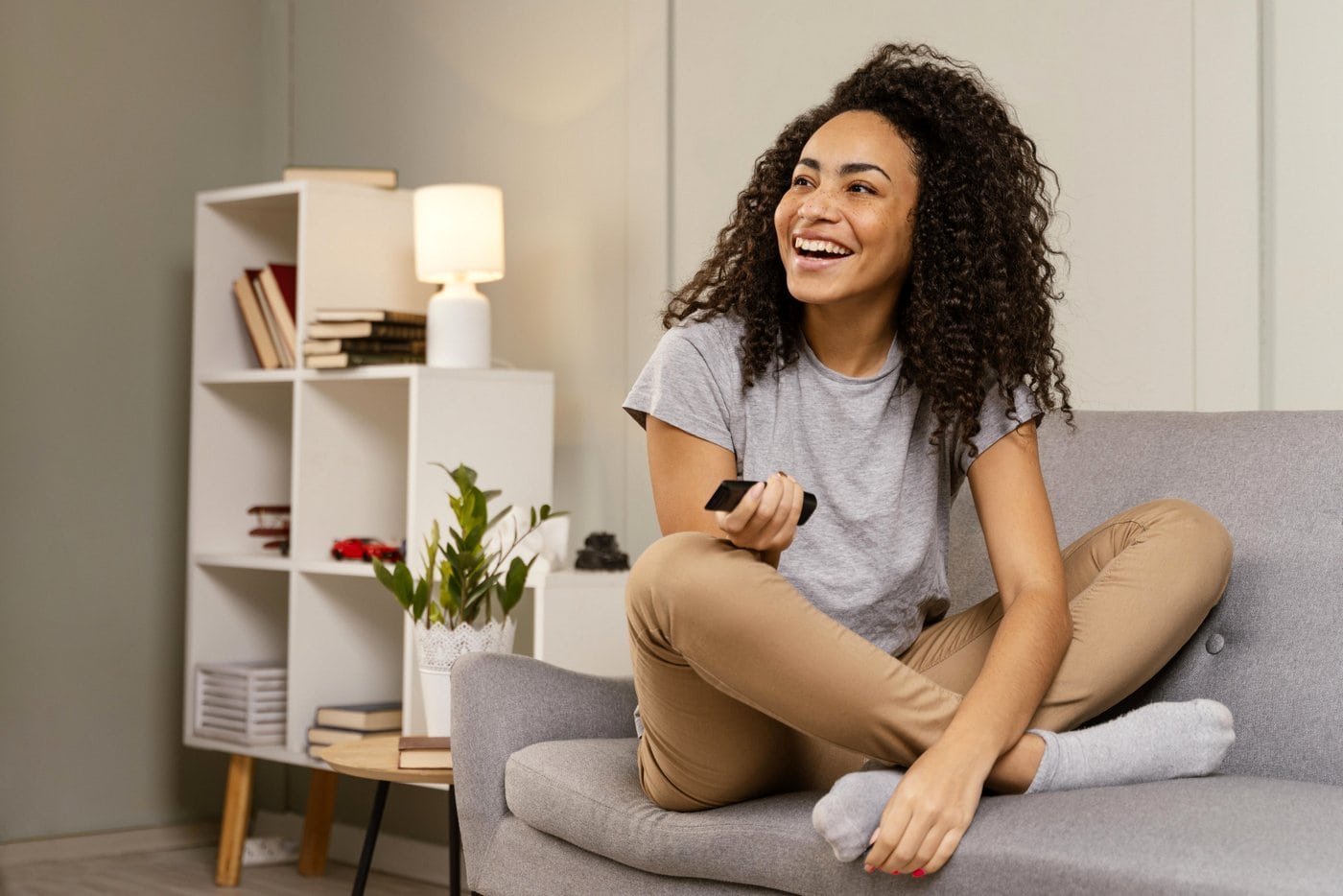 A perfect storm
"I found that binge-watching has really taken off due to a perfect storm of better TV, our current economic climate, and the digital explosion of the last few years," said McCracken. "But this TV watcher is different, the couch potato has awoken."
Multiple streaming services have given millions control over their TV viewing, and people — especially the Gen Xers born into a world where affordable consumer VCRs weren't available — have latched on to that opportunity.
"Our viewing data shows that the majority of streamers would actually prefer to have a whole season of a show available to watch at their own pace," said Ted Sarandos, Chief Content Officer of Netflix.
"Netflix has pioneered audience choice in programming and has helped free consumers from the limitations of linear television. Our own original series are created for multi-episodic viewing, lining up the content with new norms of viewer control for the first time."
McCracken believes our digital lifestyle, where storytelling is often reduced to bite-sized, 140 character conversations, leaves us craving the kind of long narrative of storytelling in today's great TV shows.
"TV viewers are no longer zoning out as a way to forget about their day, they are tuning in, on their own schedule, to a different world. Getting immersed in multiple episodes or even multiple seasons of a show over a few weeks is a new kind of escapism that is especially welcomed today," he added.
TV streamers overwhelmingly agreed. 76% of TV streamers say watching multiple episodes of a great TV show is a welcome refuge from their busy lives. 79% said watching several episodes of their favorite shows at once actually makes the shows more enjoyable. And three-quarters (76%) also say streaming TV shows on their own schedule is their preferred way to watch them.
McCracken found a new trend emerging he characterizes as, "In case of emergency, break glass." TV streamers are deciding to save shows to watch for a later date. While McCracken observed this in his research, the survey confirmed that more than one-third (37%) of TV streamers said they prefer to "save" new TV series or seasons to stream at a later date.
Binge-watching isn't necessarily a solitary experience
Among those who ever stream multiple episodes of a TV series in a row, more than one-third (38%) most like to do so solo; however, a combined 51% prefer to watch with at least one other person. 39% of TV streamers who prefer to "save" TV shows to watch at a later date choose to stream saved series or seasons when the person they want to watch with is available.
But of course, there's the downside
Research into the behavior suggests it may be similar to other addictive activities, for example, online gaming. A study published in 2021 in the journal Frontiers in Psychiatry identified what factors may help predict unhealthy binge-watching.
A growing body of research suggests that such escapism may have negative consequences by leading to unhealthy eating habits, antisocial behavior, and poor work or academic performance, among other problems. That has galvanized social scientists, like those who conducted the most recent study out of Poland, to understand what factors may drive binge-watching behavior.
The researchers surveyed a group of 645 people between the ages of 18 and 30 who admitted to watching two or more episodes of a TV show in one sitting. The participants answered a series of questions that gauged their impulsivity, emotional regulation and motivations for streaming through a series quickly.
Up to 20 episodes in one sitting?
Perhaps not surprisingly, a lack of impulse control and forethought are both significant predictors for problematic binge-watching. However, motivational factors such as wanting to be entertained or avoid being bored were also major factors.
"I think that the most interesting result of the study was that motivational factors were stronger predictors of problematic binge-watching than personal predispositions, such as impulsivity," said Jolanta Starosta, lead author and PhD student at the Institute of Applied Psychology, Jagiellonian University, in Kraków, Poland.
Another finding to emerge from the data: the lack of emotional clarity and motivation to be entertained proved to be the strongest predictors for the number of watched episodes during one binge-watching session.
While most people reported viewing between two and five episodes during a single binge-watching session, nearly 20% of the group answered that they would watch between six and 20 episodes in one sitting.
"It may be related to the fact that problematic binge-watchers engage in marathoning TV series, mainly because they want to escape their daily life problems and regulate emotions, but decide to continue watching other episodes of TV series because of more entertaining reasons," Starosta noted.
So is binge-watching addictive?
It would be premature to assume that binge-watching is as risky or serious as other addictive behaviors until more research is done, Starosta said, though there are similarities.
"We have found out that anxiety and depression are significant predictors of problematic binge-watching," she noted.
The streaming services themselves may influence binge-watching. Long-popular cliffhanger endings encourage viewers to click on the next episode, while some platforms automatically queue up and start the next show shortly after the ending credits start rolling.
"A few seconds to decide if someone should or should not continue watching is not enough to make rational decisions, and may lead to loss of control over the amount of time spent on watching TV shows," Starosta said.
"However, some platforms have already made some changes to help viewers control their behavior. For example, Netflix added the option to disable the autoplay of another episode."