While coloring and perming your hair are common beauty treatments, the process can leave your hair dry and brittle.
Fortunately, dermatologists, who are experts in the care of the skin, hair and nails, offer tips for coloring and perming your hair while keeping it healthy.
Tips for healthy permed & color-treated hair
Board-certified dermatologist Paradi Mirmirani, MD, FAAD, assistant clinical professor of dermatology at the University of California, San Francisco, shared some advice for healthier hair when using hair treatments:
1) When dyeing your hair, consider choosing a dye that is darker rather than lighter than your natural color to minimize hair damage.
2) If you do choose to go lighter, select a dye within three shades of your natural color, as lightening more than three shades requires higher volumes of peroxide, which is harmful to the hair.
3) Test store-bought hair color before using. Follow manufacturer's instructions. If you develop a rash or redness, swelling, burning or itching, you are having an allergic reaction to the dye. If that's the case, do not dye your hair, and consult your dermatologist for further allergy testing.
4) Protect your hair from the sun. The sun can make your hair weak, dry, rough, faded and brittle. This is especially true if you dye, bleach, or perm your hair. Wear a wide-brimmed hat when you go outside.
5) Use caution when perming hair to prevent long-lasting damage. Set a timer to know when you should rinse the perm solution. Always follow package instructions. If you experience excessive stinging and burning while the perm solution is on your scalp, wash it off immediately and consult your dermatologist.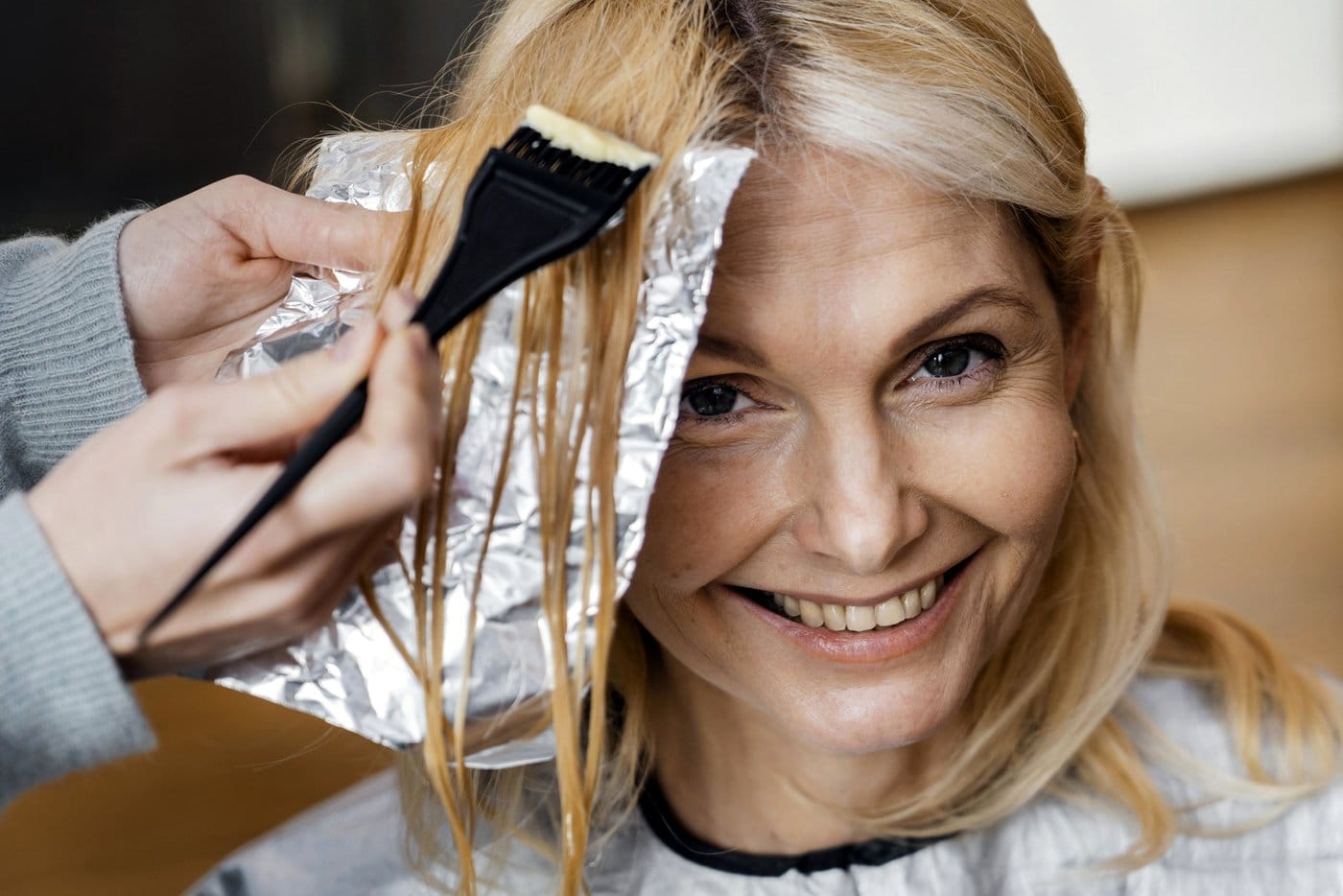 Defining some popular hair coloring methods
Gone are the days when hair color just meant one shade! The experts at Matrix Professional defined some of the gorgeous and creative modern techniques for dyeing hair.
Balayage means "sweeping" in French, and balayage hair color highlights are hand-painted or swept along the surface of the hair. Because the hair color (or lightener) is concentrated on the surface of each section, the underside remains darker, giving the hair a natural, dimensional effect.
Balayage can be done on any hair color, and is especially beautiful on long and medium-length hair.
Foilayage is a balayage hand-painting technique, but the highlights are wrapped in foil, making them warmer and boosting the lightening process.
Ombré means "shade" or "shadow" in French, and when it comes to hair color, it is a dramatic, two-toned hair color effect (usually typically darker at the top and lighter on the bottom).
Sombré is a more subtle version of ombré, with less of a contrast between shades.
Color melting is a variation of ombré-style hair color, two or three shades are used on each strand, then each is blended with the side of a hair color brush to give them a "melted" effect.
Color & perm tips for healthier-looking hair
ALSO SEE: Smart & simple haircare advice that everyone can use